A Good Year for May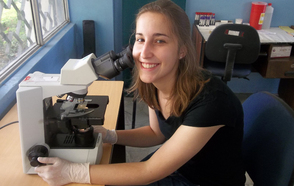 April 13, 2013
By the beginning of her junior year, Megan K. May '13 was already a seasoned field researcher. As a freshman, May, a member of DePauw's Science Research Fellows (SRF) Program, collaborated with a pair of professors on a study of the microbial makeup of the DePauw Nature Park ponds. She spent the following summer at Mount Desert Island Biological Laboratory in Maine, monitoring water conditions and studying the effects of cruise ships in nearby Bar Harbor.
Then, last spring, all that experience went down the toilet. Literally.
During a semester-long stay in Ecuador, May conducted research on waste collected by composting toilets in Puyo, a mountain town south of the capital. Used in places where reliable waste treatment isn't available, the waterless toilets separate sterile fluids from the potentially infectious solid waste, which must be stored for a period of time before it is safe to use as fertilizer. The wait can be anywhere from six months to more than a year depending on the location of the storage system, making it difficult to know when the waste has been rendered harmless. And in places where composting toilets are found, testing equipment is just as modest.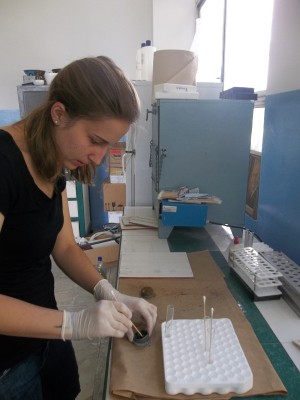 To pinpoint the necessary sequestration period, May tested samples for the presence of pathogens at different periods of decomposition. The work may sound unpleasant, but time quickly obscures the waste's true nature.
"After two months, feces basically looks and smells exactly like soil," May assures.
When she returned to DePauw last fall, the Ecuador experience became the centerpiece of her application to the National Science Foundation (NSF) Graduate Research Fellowship Program. Her friend, Catie M. Baker '12, had received the fellowship earlier in the year, encouraging May to try for one as well. If nothing else, she'd learn how to write a research proposal with support from her advisers, family and friends.
"I thought, okay, I'll try for this. I probably won't get it, but I'll get experience from applying because these are skills I need to have for the future anyway," May remembers.
A few months later, May awoke to a congratulatory text message from Baker. Thanks to a malfunctioning notification system, she was among the last to find out that she'd won.
The fellowship will provide May with a three-year annual stipend of $30,000 plus a $12,000 cost of education allowance at the Massachusetts Institute of Technology-Woods Hole Oceanographic Institution Joint Program in Oceanography beginning this summer. [Read more.] She is the third DePauw senior in the last four years to receive the honor, joining Baker, now at University of Washington, and Kathleen F. Mittendorf '10, a graduate student at Vanderbilt University, both of whom were SRF members. Heidi N. Keiser '11, now at the University of Minnesota, also received the NSF fellowship this year.
It was the chance to dive directly into her interests that drew May to Greencastle four years ago – and ultimately paved the way for the fellowship. While other schools told her she'd have to wait, her SRF membership allowed her to pursue research as a freshman. And, having taken Spanish through high school and wanting to continue her studies, the Servicio en las Américas program took May on her first trip to Ecuador before her college classes even began. Two years later, as a biology major with minors in Spanish and sociology, all of her studies came together in Puyo.
"DePauw was offering all these cool opportunities right off the bat," she says. "It made me think, if I'm doing all this now, what can happen in the next four years?"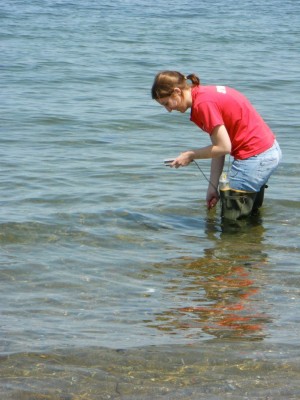 When she graduates next month, May says her fondest memories of DePauw won't just be of the places she visited or the work she's done, but also of the people she got to know along the way.
"In all my classes, people are really invested and interested in you," May says. "One of my favorite things about DePauw has been that professors are so willing to go out of their way to help you, and they want you to do as well as you want to do, both in class and in life. They're ready to help you make that leap."
Before she makes that leap, May has one last piece of research to wrap up. After returning from her semester abroad, she spent last summer with Karen Lloyd, a microbiologist at the University of Tennessee, Knoxville, comparing the reliability of sediment- and water-sampling methods. May compiled the data during the fall semester, and – if all goes according to plan – she'll leave DePauw as a published author, as well.
Back