Jim Baker '53 Named a 'Sagamore of the Wabash'
April 20, 2013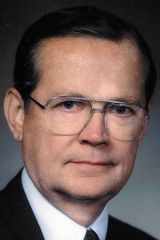 "Jim Baker is a selfless, generous Hoosier who has devoted his life to improving educational opportunities for kids throughout our state and nation," said Indiana Governor Mike Pence as he presented James K. Baker with the Sagamore of the Wabash award. One of Indiana's highest distinctions, the honorary award pays tribute to individuals who have made a significant contribution to life in the state.
"I am honored to be able to present this true Hoosier role model with a Sagamore of the Wabash, and I thank him on behalf of the people of Indiana for his dedication to this important cause," Pence added.
Baker, a 1953 graduate of DePauw and a former member and chair of the University's Board of Trustees, received the award earlier this month. He retired as chairman of Arvin Industries in 1998.
"Baker has been an education advocate for decades," notes a story in the Columbus Republic. "He led a capital campaign for Indiana University-Purdue University Columbus in the early 1980s and is credited with raising funds needed to secure and update a permanent IUPUC campus. Baker also helped lead a public school reform effort as vice chairman of the Washington-based New American Schools initiative, which aimed to increase collaboration between university presidents and corporate executives to improve education in America. He later served the education community as a three-year trustee of DePauw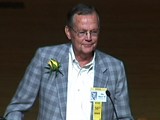 University in Greencastle. In 2012, Baker earned the IUPUC's James G. Simms Leadership Award as well as a Tindley Trailblazer Award from the Charles A. Tindley Accelerated School in Indianapolis for his leadership in education and commitment to students."
Read more at the newspaper's website.
James Baker delivered the golden anniversary address at his 50th class reunion at DePauw. It is covered in this previous story.
Back