DePauw Band and Wind Ensemble Perform Sunday at 3 p.m.
April 24, 2013
Craig Paré steps up to the podium Sunday to conduct the DePauw University Band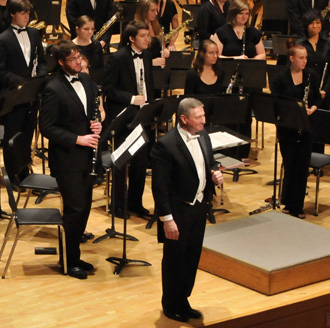 and Wind Ensemble in its final performance of the year at 3 p.m. in the Green Center's Kresge Auditorium. The featured performer on the program will be School of Music faculty member and University organist Carla Edwards in a performance of Samuel Barber's Toccata Festiva on the J. Stanford Smith Concert Organ.
American composer Harry Bulow's Fanfare for Freedom, dedicated to the men and women of the U.S. armed forces in Afghanistan and Iraq and performed by the University Band's brass and percussion sections, opens the program.
Works for full band include Classic Overture in C by François Joseph Gossec; Marche Hongroise, "Rakoczy" by French Romantic composer Hector Berlioz; and Brazileira from the suite Scaramouche by Darius Milhaud.
P.D.Q. Bach's March of the Cute Little Woodsprites provides a comic interlude following the DePauw Wind Ensemble's performance of Music for Piano, Winds, and Percussion by School of Music faculty composer James A. Beckel, who also prepared the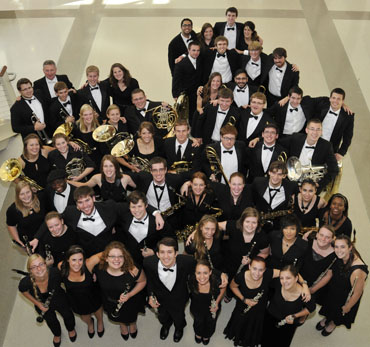 arrangement of Toccata Festiva that concludes Sunday's concert.
The band is encouraging audience members to bring a non-perishable food item to exchange at the box office for a free ticket. All donations received will go to the Putnam County Emergency Food Pantry. Specific items requested by the charity include chicken noodle soup, vegetable soup, pork and beans, canned fruit, peas, carrots, and corn. Monetary donations to the food bank will also be accepted.
General admission tickets to the band concert are $3. Children under 12, all students, and seniors over 65 are free. For assistance purchasing tickets call (765) 658-4827, drop by the Green Center's box office, or visit www.depauw.edu/music/tickets.
Back