Fourth-ranked Tigers Lead Opening NCAC Round; Gooch Tied for Individual Lead
April 27, 2013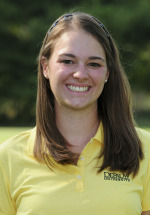 Granville, Ohio - The fourth-ranked Tigers shot an opening round 317 and lead the North Coast Athletic Conference Championship Series Event 1 by eight strokes over Wittenberg. Allegheny is in third at 339.
DePauw's Paige Gooch (pictured) is tied with Wittenberg's Maggie Smith for the individual lead as each shot 75 in the opening round at the Granville Golf Course.
Abby Dickey is tied for fourth after shooting a 79, while Jacqueline Carroll is seventh at 81. Camila Romero and Kelsey Smith each shot 82 to tie for eighth.
Second and final round play of the first of two NCAC Championship events takes place on Sunday.
For more information on the DePauw women's golf program, follow DePauw on Twitter (@DePauwAthletics / @DePauwGolfW) or like them on Facebook (www.facebook.com/DePauwAthletics).
Back