#4 Tigers Top Field at First NCAC Championship Event; Gooch is Top Individual
April 28, 2013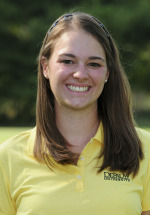 Granville, Ohio - Led by Paige Gooch's two-round 149 including a 74 today, fourth-ranked DePauw totaled a 632 and won the first of two North Coast Athletic Conference Championships by 17 strokes over runner-up Wittenberg at the Granville Golf Course. Allegheny was 38 shots off the pace and in third.
Gooch (pictured) finished one stroke ahead of Wittenberg's Maggie Smith. The individual title was her third of the season and fifth of her career.
DePauw's Kelsey Smith was fifth with a 160, while Jacqueline Carroll was tied for sixth at 161. Abby Dickey shot a 162 to finish eighth and Camila Romero was tied for 13th with a 169.
The Tigers compete in the second NCAC Championship Event, May 4-5, at the Oakhaven Golf Course in Delaware, Ohio.
For more information on the DePauw women's golf program, follow DePauw on Twitter (@DePauwAthletics / @DePauwGolfW) or like them on Facebook (www.facebook.com/DePauwAthletics).
Denison Spring Invitational (NCAC #1)
Granville Golf Course
Granville, Ohio
Dates: 4/27-28/2013
Par 71, 6210 yards  (7 teams, 35 players)

DePauw........................ 317 315   632   +64      1st
Paige Gooch...................  75  74   149    +7      1st
Kelsey Smith..................  82  78   160   +18      5th
Jacqueline Carroll............  81  80   161   +19   t- 6th
Abby Dickey...................  79  83   162   +20      8th
Camila Romero.................  82  87   169   +27   t-13th

Wittenberg.................... 325 324   649   +81      2nd
Maggie Smith..................  75  75   150    +8      2nd
Allie Lawwill.................  85  83   168   +26   t-10th
Carolyn Wong..................  86  82   168   +26   t-10th
Nicole Waers..................  79  90   169   +27   t-13th
Deanna Mychalishyn............  91  84   175   +33   t-17th

Allegheny..................... 339 331   670  +102      3rd
Liz Blyth.....................  80  78   158   +16   t- 3rd
Miranda Santucci..............  83  78   161   +19   t- 6th
Sarah Vorder Bruegge..........  83  85   168   +26   t-10th
Naisy Flannery................  93  90   183   +41   t-20th
Lauren Wind...................  94  91   185   +43     22nd

Denison....................... 347 341   688  +120      4th
Brynn FitzGerald..............  77  81   158   +16   t- 3rd
Stacey Adams..................  88  84   172   +30     16th
Amanda Castle.................  93  82   175   +33   t-17th
Rebecca Rabb..................  89  94   183   +41   t-20th
Elizabeth Tristano............  95  96   191   +49   t-24th

Ohio Wesleyan................. 354 356   710  +142      5th
Amy Greenwood.................  84  83   167   +25      9th
Courtney Tincher..............  85  84   169   +27   t-13th
Amy Greenblott................  89  97   186   +44     23rd
Ally Lichwa................... 100  92   192   +50     26th
Ashley Saylor.................  96 109   205   +63     28th

Wooster....................... 400 408   808  +240      6th
Sharmeen Chinoy...............  93  82   175   +33   t-17th
Alyssia Gilbert...............  92  99   191   +49   t-24th
Karley Walker................. 111 109   220   +78   t-31st
Nichole Gustafson............. 104 118   222   +80     33rd
Savannah Glidewell............ 114 119   233   +91     34th

Hiram......................... 418 421   839  +271      7th
Jenelle Bayus................. 101  97   198   +56     27th
Megan Jennings................ 105 103   208   +66     29th
Carrie Dyer................... 106 109   215   +73     30th
Alexa Griswold................ 106 114   220   +78   t-31st
Taylor Stott.................. 123 112   235   +93     35th

# Indicates individual player
NCAC Championship Series - Event #1

Back