#11 DePauw Battles Back for Second Straight NCAC Title
April 28, 2013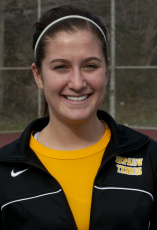 Oberlin, Ohio - Eleventh-ranked DePauw successfully defended its North Coast Athletic Conference championship and earned a ninth straight trip to the NCAA Division III Championship with a 5-4 victory over Denison in the conference title match.
The Tigers have now won six straight conference titles including four in the Southern Collegiate Athletic Conference and both since joining the NCAC.
DePauw was off to a solid start after sweeping the doubles competition. Meg Crowley and Claire Marshall topped Kelsey Geppner and Alex Marcell by a 9-7 score at the number-one spot, while Caroline Emhardt and Maggie MacPhail defeated Taylor Hawkins and Audrey Fitzpatrick 8-2 at second doubles.
At third doubles, Julie Wittwer and Kaitlin Pickrel were victorious over Meg Chiumento and Emma Forman by an 8-2 score.
The Tigers then dropped first through fourth singles to trail the Big Red, 4-3. Taylor Mahr picked up a 7-6 (7-3), 6-3 victory at fifth singles over Audrey Fitzpatrick to knot the contest.
Elizabeth Young (pictured), who won her first set by a 7-5 score over Emma Forman, trailed 3-0 in the second set but rallied for a 6-4 win to take the match.
DePauw improved to 17-7, while the Big Red dropped to 15-6.
For more information on the DePauw tennis program, follow DePauw on Twitter (@DePauwAthletics / @DePauwTennis) or like them on Facebook (www.facebook.com/DePauwAthletics).
Denison vs DePauw University
4/28/2013 at Oberlin, Ohio
(John W. Heisman Field House)

#11 DePauw University 5, Denison 4

 Singles competition 
1. Kelsey Geppner (DENW) def. Maggie MacPhail (DPU) 6-1, 1-6, 7-6 (8-6)
2. Alex Marcell (DENW) def. Claire Marshall (DPU) 6-4, 4-6, 7-5
3. Taylor Hawkins (DENW) def. Meg Crowley (DPU) 6-1, 6-4
4. Meg Chiumento (DENW) def. Julie Wittwer (DPU) 6-2, 6-3
5. Taylor Mahr (DPU) def. Audrey Fitzpatrick (DENW) 7-6 (7-3), 6-3
6. Elizabeth Young (DPU) def. Emma Forman (DENW) 7-5, 6-4

 Doubles competition 
1. Meg Crowley/Claire Marshall (DPU) def. Kelsey Geppner/Alex Marcell (DENW) 9-7
2. Caroline Emhardt/Maggie MacPhail (DPU) def. Taylor Hawkins/Audrey Fitzpatrick (DENW) 8-2
3. Julie Wittwer/Kaitlin Pickrel (DPU) def. Meg Chiumento/Emma Forman (DENW) 8-2

Match Notes:
Denison 15-6
DePauw University 17-7; National ranking #11; Regional ranking #3
NCAC Championship Match
DePauw wins NCAC Championship. Denison is runner-up

Denison vs DePauw University
4/28/2013 at Oberlin, Ohio
(John W. Heisman Field House)

#11 DePauw University 5, Denison 4

 Singles competition 
1. Kelsey Geppner (DENW) def. Maggie MacPhail (DPU) 6-1, 1-6, 7-6 (8-6)
2. Alex Marcell (DENW) def. Claire Marshall (DPU) 6-4, 4-6, 7-5
3. Taylor Hawkins (DENW) def. Meg Crowley (DPU) 6-1, 6-4
4. Meg Chiumento (DENW) def. Julie Wittwer (DPU) 6-2, 6-3
5. Taylor Mahr (DPU) def. Audrey Fitzpatrick (DENW) 7-6 (7-3), 6-3
6. Elizabeth Young (DPU) def. Emma Forman (DENW) 7-5, 6-4

 Doubles competition 
1. Meg Crowley/Claire Marshall (DPU) def. Kelsey Geppner/Alex Marcell (DENW) 9-7
2. Caroline Emhardt/Maggie MacPhail (DPU) def. Taylor Hawkins/Audrey Fitzpatrick (DENW) 8-2
3. Julie Wittwer/Kaitlin Pickrel (DPU) def. Meg Chiumento/Emma Forman (DENW) 8-2

Match Notes:
Denison 15-6
DePauw University 17-7; National ranking #11; Regional ranking #3
NCAC Championship Match
DePauw wins NCAC Championship. Denison is runner-up

Back