Prof. Glen Kuecker Organizes U of London Workshop on 'New Songdo City and South Korea's Green Economy'
May 6, 2013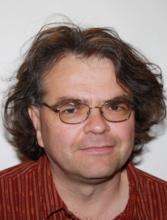 Glen David Kuecker, professor of history at DePauw University, is the organizer of a workshop that will take place June 5 at SOAS, University of London (The School of Oriental and African Studies). The program is titled "New Songdo City and South Korea's Green Economy: An Uncertain Future." Dr. Kuecker will make a presentation, titled "Building the Bridge to the Future: New Songdo City from a Critical Urbanism Perspective."
"As the global population grows to 9 billion people by 2050, demographers tell us that two-thirds will be urban dwellers," notes a synopsis of the professor's talk. "Much of this growth will happen in Africa and Asia where urban planners anticipate building hundreds of new cities from scratch. South Korea's New Songdo City is among the first of these new cities, and many consider it a potential model for those that will follow. Its developer, Gale International, explicitly sees it as a model city, one they hope to replicate in China. Yet, we have little analysis of New Songdo City that evaluates if it is a sturdy bridge to the future, or perhaps a mistaken path.
This paper uses critical urban theory to explore the limitations of the designer's sustainability claims and how these are connected to issues of social justice, especially how projects like New Songdo City reproduce global inequities and inequalities. The essay will conclude by considering the implications of New Songdo City for our urban future."
Glen Kuecker, who is engaged in research and writing on the place of cities in the 21st century, holds a Ph.D. from Rutgers University. He is co-editor of Latin American Social Movements in the Twentieth Century.
Learn more in this previous story.
Back