Four Tigers Earn Spots on All-NCAC Men's Tennis Squads
May 2, 2013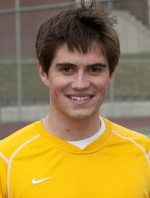 Greencastle, Ind. - Four members of the DePauw men's tennis team have earned spots on the all-North Coast Athletic Conference teams in voting by the conference's head coaches.
Sam Miles (Jr., Indianapolis/Park Tudor) was named to the first team for singles, while Ben Kopecky (Jr., Rochester, Minn./Rochester Lourdes) and David Moss (Sr., Indianapolis/North Central) were second team choices. Reid Garlock (Sr., Indianapolis/North Central) earned honorable mention.
Miles (pictured), a first team selection last year, posted an 11-22 record at number-one singles including a 6-17 mark in dual matches. Kopecky was 17-16 overall and 10-12 at second singles during dual matches after earning second team honors in 2012. Playing mostly fourth singles, Moss, an honorable mention choice in 2012, posted a 12-14 record including an 8-11 mark in dual matches with Garlock at 15-17 overall and 9-13 in duals primarily at fifth singles.
The doubles team of Miles and Kopecky were first team choices with Moss and Garlock named to the second team. Miles and Kopecky were 19-15 overall including 11-12 in dual matches at primarily first doubles and earned second team honors in 2012, while Moss and Garlock finished 19-11 including 13-8 in dual matches primarily at the number-two spot.
DePauw finished second at the NCAC Tournament after posting a 3-0 record in the conference's West Division. The Tigers finished with a 10-13 overall record.
For more information on the DePauw tennis program, follow DePauw on Twitter (@DePauwAthletics / @DePauwTennis) or like them on Facebook (www.facebook.com/DePauwAthletics).
Back