Quad Named to Honor Tim '58 and Sharon Ubben '58, Who "Fundamentally Altered the History of DePauw"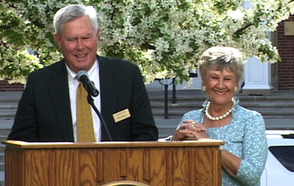 May 2, 2013
"It's a rare day that any college or university marks off a part of its campus in honor of those who have changed an institution, and today is one of those rare days," DePauw University President Brian W. Casey said this afternoon as he formally dedicated the Ubben Quadrangle. Known before as the North Quad, the expanse of land in front of Mason Hall, Lucy Rowland Hall and Rector Village now honors Timothy H. and Sharon Williams Ubben, both 1958 graduates of DePauw.
The president noted that in 2002, DePauw's academic quad was named in honor of Philip Forbes Holton '29 and Ruth Clark Holton '29, who left the University a gift exceeding $128 million for scholarship endowment. The generosity of the Ubbens, Casey stated, has also "fundamentally altered the history of our University."
The president noted, "Tim and Sharon made their first gift to DePauw University when, in 1958, they sent a check to the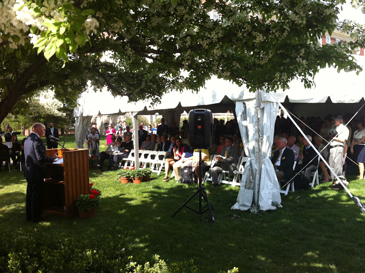 Annual Fund in the amount of $26." The gifts continued, and grew. In 1983, the Ubbens made their first six-figure contribution to their alma mater to fund the Ubben Scholarship program, which supported more than 140 DePauw students. Their generosity endowed the Ubben Lecture Series in 1986, which brings leaders such as Bill Clinton, Tony Blair, Margaret Thatcher and Jane Goodall to campus each year. A 1996 gift of more than $5 million created Alumni Legacy Scholarships. In 2000, the couple created more than 15 endowed faculty chairs. The Ubbens have also contributed to renovations of Harrison Hall, Olin Laboratory, the Lilly Physical Education and Recreation Center, and Blackstock Stadium.
On February 4 of this year it was announced that Tim and Sharon Ubben committed $20 million to the University's endowment to provide need-based financial aid for DePauw students.
"You can total up all of their gifts and find that Tim and Sharon Ubben have committed over $76 million to DePauw University," Casey told the crowd assembled in a tent on Ubben Quad. "But it's not the total that's the most striking thing, as stunning as that number is, but the realization that there is no facet of the essential elements of this University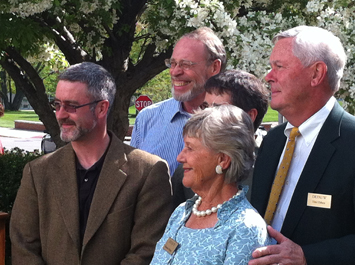 that have not been made stronger by the Ubbens' support. The support offered to students, the experience our students have here and abroad, and the very nature of our campus have all been profoundly and strongly shaped by the Drs. Ubben," Casey said of the couple who received honorary doctorates at last May's commencement exercises.
"We didn't seek this recognition, but believe me it's very nice, thank you," Tim Ubben told the crowd after a new sign for the Ubben Quadrangle was formally unveiled. He said he and his wife "have so much affection and respect" for DePauw and joked that he had always assumed "you had to be dead" to be honored in such a way. As the crowd roared, he took the gag further, adding, "I want to give honor to my predecessor, Mr. North of the North Quad." For the uninitiated, the old name cited its location.
"I feel like I'm back home again in Indiana, for I lived in Rector Hall, on the second floor just above the doors," Sharon Ubben told the gathering. In the 1950s Rector Hall was a dormitory for first-year women students; it was destroyed by fire in 2002 and was replaced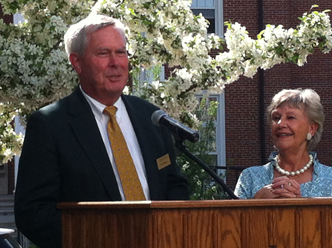 by Rector Village. "And my room was a meeting place. because everybody came every night to see who went out with whom, see all the hanky-panky that was going on
... I have fond memories being back here, and this is indeed an honor."
Tim Ubben pointed out that the quad is "surrounded by students. And if there was anything dominant about our investment in DePauw it's that we've endowed so many student scholarship so that kids who otherwise couldn't come here can. So we find this space very, very appropriate."
"Today the Ubben name joins the names of the Rectors, Roy O. West, and Lucy Rowland and Bishop Roberts as names forever enmeshed in the very fabric of this campus," said President Casey.
After graduating from DePauw, Timothy H. Ubben received his M.B.A. from Northwestern University and served in the U.S. Army while Sharon Williams Ubben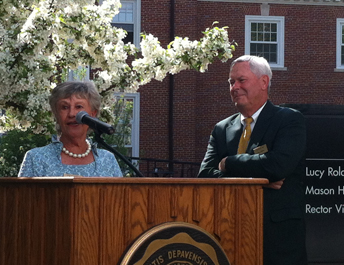 taught school in Elkhart, Indiana, and Tampa, Florida.
Tim Ubben founded Lincoln Capital Management, a Chicago-based investment firm, in 1967. When he retired in 1999 as chairman, Lincoln had over $50 billion in assets under management. Sharon Ubben owned a tour company, Hearts Desire, from 1983 to 1990.
Tim Ubben co-chaired DePauw's Board of Trustees from 1998 to 2001 and continues his service as an advisory trustee; he was a member of the Alumni Association Board from 1983-87 and served as chair from 1985-87; chaired The Campaign for DePauw: Leadership for a New Century; was a member of the presidential search committee in 2007-08; and was awarded DePauw's Old Gold Goblet for "eminence in life's work and service to alma mater" in 1993. Sharon Ubben served on the Alumni Association Board from 1988-94.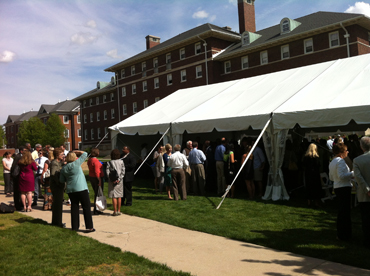 Last summer, Tim Ubben was honored as the recipient of the Ernest T. Stewart Award for Alumni Volunteer Involvement, presented by the Council for Advancement and Support of Education (CASE). He has also served on the national board of directors of the Posse Foundation since 2004, founded the Chicago Posse in 1999, and was named a "Posse Star" in 2009, among other honors.
Back