FTC Chairman Earl Kintner '36 Keynotes 7th Annual Business and Industry Day
April 23, 1960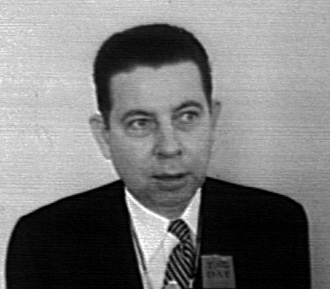 April 23, 1960, Greencastle, Ind. - "I think what is needed is a better enforcement, a more effective enforcement of the laws that we have, rather than asking for new legislation," Earl W. Kintner, chairman of the Federal Trade Commission, said today at his alma mater, DePauw University. Kintner, a 1936 DePauw graduate, was on campus to deliver the keynote address to the seventh annual Business and Industry Day.
In an interview with a television station, Kintner declared, "Each new law, as you know, tends to whittle down businessmen's freedom and citizen's freedom. I think that vigorous government enforcement of the laws that we have, coupled with a program of self-regulation, self-policing, self-discipline on the part of the advertising and the broadcasting industries will do the job without the necessity of more and more federal regulations and federal laws."
Kintner took over as FTC chair last year. The former editor-in-chief of The DePauw, he earned a degree from the Indiana University School of Law in 1938, practiced in Princeton, Indiana, and served there as a prosecuting attorney.
While in the Navy from 1944 to 1948, he was appointed Deputy United States Commissioner to the United Nations War Crimes Commission. After his discharge from the Navy, he joined the staff of the Federal Trade Commission and served as a trial lawyer, then adviser and general counsel before becoming chairman.
Kintner was elected chairman of the Federal Bar Association in 1956.
Back