Bichler, Hanrahan Take NCAC Top Honors; Six Tigers Named to All-Conference Teams
May 7, 2013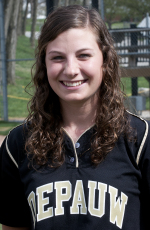 Greencastle, Ind. - In voting by the conference's softball coaches, senior pitcher Emily Bichler (Belgium, Wis./Port Washington) was named the North Coast Athletic Conference Pitcher of the Year and Erica Hanrahan was named the league's Coach of the Year.
Bichler (left) posted a 6-1 record in the circle in NCAC games for the Tigers with one save and a 1.49 earned run average. Opposing batters hit just .208 against her and she totaled 41 strikeouts with just 18 walks in 61 innings.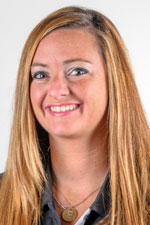 In her first season as a collegiate head coach, Hanrahan (right) led DePauw to the NCAC title with a 13-3 record. The Tigers' three-game margin in the final standings equaled the largest in NCAC softball history and hadn't occurred since 2001. The Tigers led the conference in both hitting (.319 in NCAC games) and pitching (1.59 ERA in NCAC games).
Joining Bichler on the first team are outfielder Samantha Szyska (Sr., Chicago, Ill./Resurrection), catcher Amy Hallett (Sr., Phoenix, Ariz./Pinnacle) and utility player Linsey Button (Fr., Ballwin, Mo./Lafayette).
Szyska hit .348 in the conference games with eight runs scored, three stolen bases and handled all 17 chances in the outfield without error.
Hallett batted a team-high .500 (25-50) in conference play and also led the squad with 14 runs, nine doubles, four homers and 12 RBI in the 16 NCAC contests. She also did not commit an error in 97 chances behind the plate. Button, in her first season of collegiate ball, hit .349 with six runs and seven RBI in NCAC play.
Infielder Haleigh Chasteen (Fr., Avon, Ind./Avon) and pitcher Kahla Nolan (So., West Chicago, Ill./Wheaton North) were second team selections. Chasteen batted .354 in NCAC games with four doubles and nine RBI. Nolan posted a 6-2 conference record with a 1.39 ERA with 50 strikeouts and 19 walks in 45 1/3 innings. Opponent batters hit just .183 against Nolan.
For more information on the DePauw softball program, follow DePauw on Twitter (@DePauwAthletics / @DePauwSoftball) or like them on Facebook (www.facebook.com/DePauwAthletics).
Back