"Intensity of Political Life" is High, as "Basic Work of Politics" Suffers: Lee Hamilton '52
May 11, 2013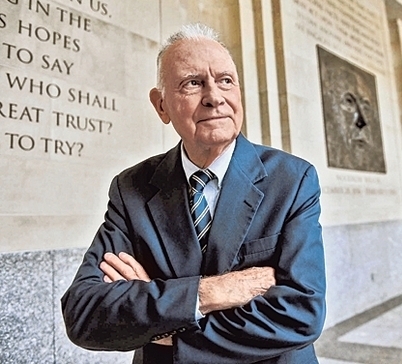 "When people ask me how politics has changed since I first ran for Congress in 1964," Lee Hamilton writes, the 24-hour news cycle -- the barrage of information flowing via the Internet, social media, cable television, and traditional outlets -- is "the first thing that comes to mind." In a newspaper op-ed, Hamilton notes, "Back then, when you spoke to the Rotary in a small town, you were speaking to a few members of the Rotary. Today, you might well be speaking to the world. A debate on Capitol Hill back then might or might not have made the news, but even if it did, days could go by before the rest of the country reacted. Today, the response is instantaneous, often hot-blooded, and almost inconceivably far-reaching."
A 1952 graduate of DePauw University who served 34 years in the U.S. House of Representatives, Hamilton continues, "It's not just the sheer proliferation and aggressiveness of the media that have ratcheted up the intensity of political life. Almost every facet of politics is more complicated and
hard-edged. Voters want instant results. Consultants are everywhere. Lobbyists have multiplied and become immeasurably sophisticated at finding ways to get what they want. Well-funded, highly organized interest groups enrich the D.C. region's economy, while in the rest of the country grassroots organizations try to influence policy on every cause under the sun. All of this, in turn, has created an unending flood of money. Politics is now big business."
The Democrat observes, "Perhaps because of the scrutiny that political decisions now get -- and the speed with which organizations turn those decisions into fundraising opportunities -- it is much harder to do the basic work of politics: finding common ground ... Today, the first words out of a politician's mouth when presented with a new proposal are, 'It doesn't measure up.' Incremental achievements have come to be seen as shameful concessions, to be avoided if at all possible. In a Washington that is more ideological, more partisan, and less pragmatic than it used to be, the bedrock notion that politicians would come together to make the country work seems quaint. It hasn't disappeared entirely, but it's certainly endangered."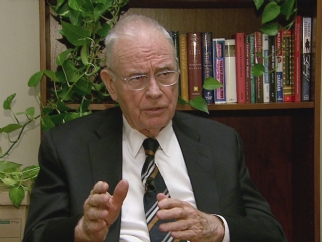 In Hamilton's view, the declining faith American citizens have for what government is capable of doing is also a factor. "The year I ran for office, Lyndon Johnson was campaigning for President on a platform that the country could successfully wage a war against poverty. Today, it seems inconceivable that a politician would be so bold or so naïve ... Congress can't even get a normal budget done on time. A 'war' on anything seems beyond its grasp."
Technology has made it easier to follow Congress, and for Americans to engage. "Perhaps that's something to build on," Hamilton states. "With greater public sophistication about a complex system, Americans might also show more patience with politicians trying in good faith to resolve our challenges. And if that happens, who knows? Maybe we'll even discover that government can, in fact, successfully tackle the big problems."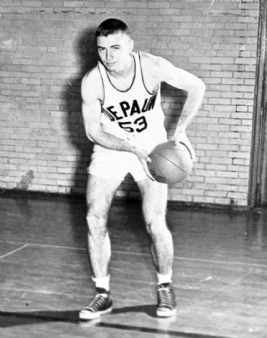 You'll find the complete column at the website of Indiana's Crawfordsville Journal Review.
Now director of the Center on Congress at Indiana University, Lee H. Hamilton co-chaired the 9/11 Commission and Iraq Study Group and was recently appointed a Professor of Practice at Indiana University's School of Public and Environmental Affairs (SPEA).
At DePauw, Hamilton majored in history and starred on the Tiger basketball team (and is a member of both the Indiana Basketball Hall of Fame and the DePauw Athletic Hall of Fame). He has been a frequent visitor to DePauw over the years, and delivered an Ubben Lecture on March 15, 2011.
Back