Sunday's Commencement Ceremony Will be Webcast Live
May 14, 2013
Key Links: Webcast, Pre-Order Your DVD; Greencastle Weather Forecast
DePauw University will webcast its 174th commencement ceremony Sunday, with a video and audio feed of the complete program available beginning at 10:30 a.m. The online webcast will be available at the University's video portal (once there, click "watch"), and an archived version will be available at the same location after the ceremony is completed.
"We've heard from some of our international students who will have relatives watching Sunday's proceedings from across the globe, as well as graduates who have relatives won't be able to make the trip to Greencastle this weekend," notes Ken Owen '82, executive director of media relations at DePauw. "We're thrilled to make this important event as accessible as we can to the University's many friends."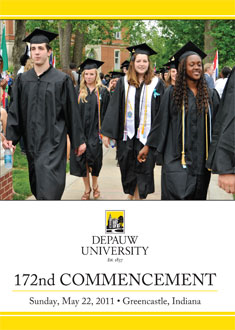 A higher-quality, permanent video of DePauw's 2013 commencement will available via a commemorative DVD. The disc will include the complete program as well as a photo gallery and a variety of bonus material, including recent campus highlights. Learn more about the DVD, which can be pre-ordered using this online order form, in this previous story. (at left: front cover of 2011 DVD)
"Each and every graduate is seen on the disc, and it's special features amount to a 'yearbook' of sorts," Owen says. "Important moments of the past four years are included -- beginning with the day the Class of 2013 arrived on campus in August 2009. The DVD will also have clips of visitors to campus such as Bill Clinton, Jane Goodall, and the first Ubben Debate between Karl Rove and Howard Dean, and the national champion women's basketball team. It's a keepsake that graduates are bound to revisit as they think back upon their years at DePauw."
Elisa Villanueva Beard, co-chief executive officer of Teach For America and 1998 graduate of DePauw, will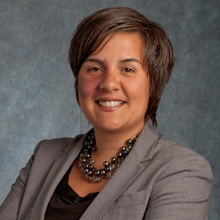 deliver the principal address at Sunday's commencement, which takes place in Holton Memorial Quadrangle. In addition, three distinguished individuals -- Margaret G. Hermann, Janet Prindle Seidler and Randall T. Shepard -- will be awarded honorary doctoral degrees during the program.
About 600 undergraduates are expected to receive degrees in the ceremony, which takes place as DePauw winds down its 175th anniversary celebration.
As of this writing (Monday evening), the Sunday forecast calls for a 30% chance of isolated thunderstorms and a high of 79 degrees. Get the latest updates here.
For more information on DePauw's 174th annual commencement, click here.
Back