Turning a New Page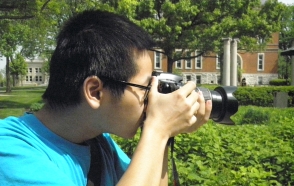 May 15, 2013
DePauw University continues to build upon its strong journalism traditions – which include the founding of the nation's most broad-based journalism organization, Sigma Delta Chi/The Society of Professional journalists, in 1909. Seven current undergraduate student-journalists have been awarded internships with newspapers across the country this summer.
"Through a combination of personal connections with alumni, these students were able to land some plum intership opportunities," says Samuel A. Autman, assistant professor of English and faculty adviser to the student newspaper, The DePauw. "Andrew J. Tangel '03, a national financial reporter for the Los Angeles Times, and Lindsay Morris '07, who is associate photo editor at the New York Post, helped make it possible for today's students to enjoy real world experiences in some of the nation's most respected newsrooms, an invaluable gift, really."
The students and their sponsoring organizations are:
Leann D. Burke '15 and Nicole DeCrisco '16 will cover news at the Salt Lake Tribune
Jim Easterhouse '15 will write about music for NUVO, an alternative weekly newspaper in Indianapolis
Dana M. Ferguson '14 will be on the entertainment desk at the Los Angeles Times
Hoang M. Nguyen '14 has a photography internship at the New York Post
Rebecca M. Stanek '14 will cover news on the city desk at the Oregonian in Portland, Ore.

Sunny Strader '14 has a photography internship at the Oregonian
Professor Autman, whose work has appeared in the Birmingham Post-Herald, Tulsa World, Salt Lake Tribune, St. Louis Post-Dispatch and San Diego Union-Tribune, says, "The thing I love about summer newspaper internships is those experiences marry practice and theory in a real-world setting in a way students can't get at our own campus newspaper. These students will come back transformed and know if this is a career for them."
Founded in 1852 as Asbury Notes, The DePauw has a rich tradition of being the springboard for the careers of many of America's great journalists. Alumni of the student newspaper include "business journalist of the century" Bernard Kilgore and Kenneth C. Hogate of the Wall Street Journal; Eugene C. and Eugene S. Pulliam of the Indianapolis Star and Central Newspapers chain; Donald Maxwell, former editor of the Chicago Tribune; Robert Giles, former curator of the Nieman Foundation for Journalism at Harvard University and former editor of the Detroit News; John McWethy, former ABC News Senior Pentagon Correspondent; and James B. Stewart, Pulitzer Prize-winning former front page editor of the Wall Street Journal, bestselling author and New York Times columnist.
This spring, The DePauw collected ten "Best of the Best in Indiana" awards -- including 5 first-place citations -- from the Society of Professional Journalists. The publication and its staff were also honored with seven 2012 Society of Professional Journalists Region 5 Mark of Excellence Awards. DePauw's student newspaper won a total of 26 awards -- including twelve first place honors and recognition as Division III Newspaper of the Year -- at the Indiana Collegiate Press Association's annual awards program.
The DePauw is completely independent and staffed and managed entirely by students.
Back