Fire in Downtown Greencastle Damages Four Buildings
May 17, 2013
Also: Photo Gallery
A fire this morning in downtown Greencastle, several blocks north of the DePauw University campus, caused heavy damage to four buildings but no injuries are reported.
Firefighters were called to 24 East Washington Street, adjacent to the courthouse square, at about 7:15 a.m. According to the Banner-Graphic, "The fire appears to cover the east half of the Washington Street block between Vine and Indiana streets." By 10:20 a.m. Greencastle Fire Chief Bill Newgent told the newspaper that the fire had been contained.
The Greencastle Fire Department was assisted this morning by several outside agencies, including crews from Crawfordsville, Brazil, Danville, Avon and Plainfield.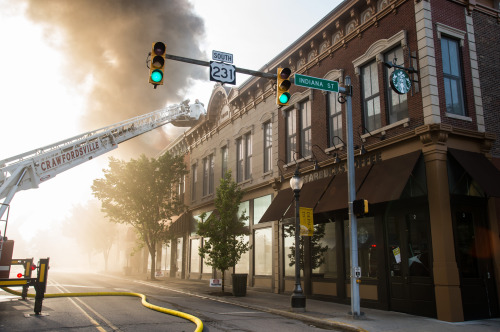 The newspaper reports that the flames, which were visible in footage shot by television news helicopters, damaged a pawn shop and dentist office "on the Washington Street block between Vine and Indiana Streeet. Other buildings sustained smoke and water damage."
The Eli's Bookstore/Starbucks location is located on the affected block just west of the blaze.
For additional information and video of today's fire, visit Indianapolis NBC affiliate WTHR. A report which aired on the station's 5 p.m. newscast is embedded below.
Back