Three Honorary Degrees Awarded at DePauw's 174th Commencement
May 19, 2013
Key Links: Primary Address by Elisa Villanueva Beard '98; Mark Fadel '13 Addresses Classmates; Webcast; Order Your DVD
"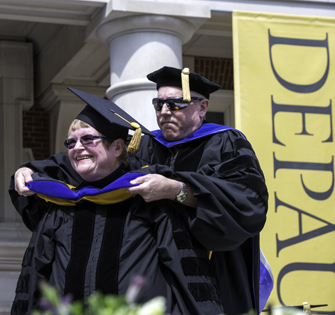 DePauw launched me into a very exciting and stimulating career," Margaret G. Hermann, a 1960 graduate of the University, said this morning as she received an honorary Doctor of Political Science degree from her alma mater. Dr. Hermann is Cramer Professor of Global Affairs in the department of political science at Syracuse University and director of the Moynihan Institute of Global Affairs.
Hermann went on to earn an M.A. and Ph.D. in psychology from Northwestern University and has been president of the International Society of Political Psychology (ISPP) and the International Studies Association (ISA) as well as editor of Political Psychology and the International Studies Review.
"I have heard you called the incomparable Class of 2013, and I wish you all the luck in the world," Hermann told the graduates who faced her in Holton Memorial Quadrangle. "Come join me."
Janet Prindle Seidler, the retired managing director of Neuberger Berman and 1958 graduate of DePauw, was presented with an honorary Doctor of Public Service degree.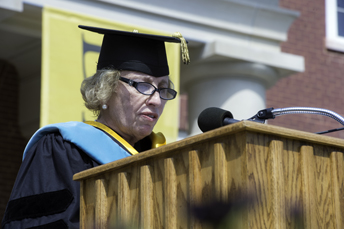 In 1983, Seidler became the first female partner of Neuberger Berman LLC. With more than 40 years of investment experience, she is a strong advocate for the career advancement of women and she is an active mentor for young professionals.
"I must confess, as a student at DePauw, I was most concerned with hanging out with my friends and I had no idea where my life and career would lead me," Seidler said this morning. "So my first message to you is, do not panic. If you are not sure of your career path, you will find it."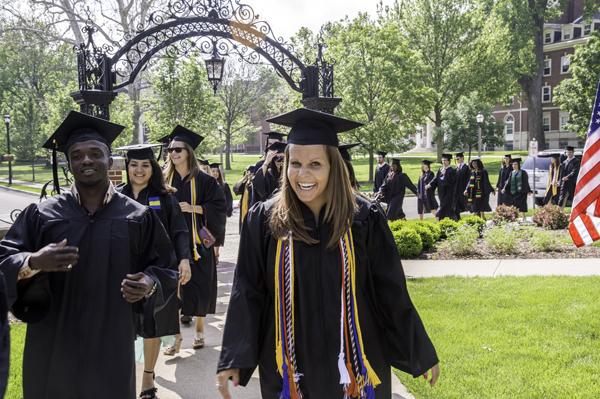 She noted, "Because of my experiences I've been committed to helping women achieve equality and to become leaders in the professions and in society. And that quest inspired me to fund the women's studies program here at DePauw." In 2005, she established the Janet Prindle Institute for Ethics at DePauw.
"I emphasize to you all, do not let barriers hold you back, and if possible, help break them down for yourself and others," Seidler stated.
Randall T. Shepard, who served twenty-five years as Chief Justice of the Indiana Supreme Court, was today presented with an honorary Doctor of Laws degree from DePauw. Shepard currently serves as executive in residence at the Public Policy Institute of Indiana University's School of Public and Environmental Affairs.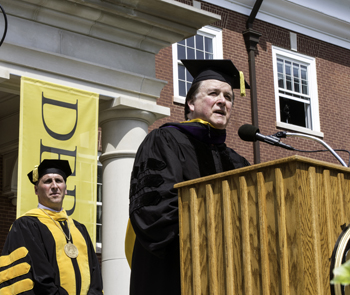 He is also a Senior Judge in the Indiana Court of Appeals and is chairman of the American Bar Association Task Force on the Future of Legal Education.
"DePauw has been a part of my life for as long as I'm able to remember," Shepard told the graduates, faculty members and audience gathered at Holton Quad. His mother and father, Richard S. Shepard and Dorothy Donlen Shepard, were members of DePauw's Class of 1942.
"One of the things that they learned here and that they taught my sister and me was the enormous value of education to leading a satisfying, enriching life of service to our fellow human beings. I am grateful to them for that lesson, as they have been grateful to DePauw for passing it along to them."
Elisa Villanueva Beard, a 1998 DePauw graduate who is co-chief executive officer of Teach For America, received her alma mater's Young Alumni Award at today's ceremony. Villanueva Beard presented the principal address at the event,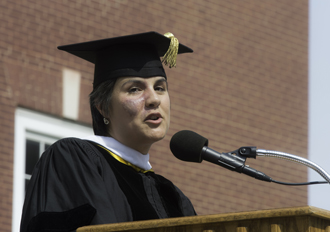 "Looking Inward, Living Onward."
"You've got a lot of transitions ahead of you, and each one of them is an opportunity for self-discovery," she told the Class of 2013. I'm a firm believer that it's only when you find yourself in unfamiliar situations with unfamiliar faces that you can learn who you really are. It's when we're surrounded by difference that we see ourselves most clearly."
A summary of the speech, including video, can be found here. The presentation of the Young Alumni Award is embedded below.
A total of 571 DePauw students received bachelor's degrees in today's ceremony.
The program included recognition of two DePauw faculty members who are retiring at the conclusion of the current academic year: Thomas S. Dickinson, professor of education studies since 2002; and Linda L. Elman, associate professor of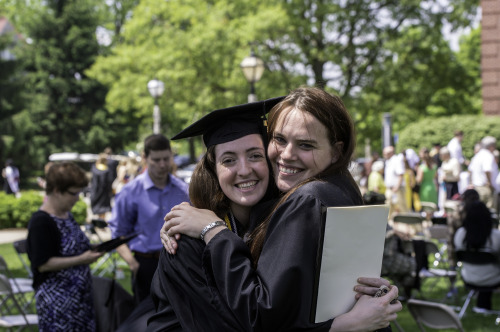 modern languages (Spanish), who joined the faculty in 1998. Also retiring this summer, but not on hand for today's ceremony are Françoise Coulont-Henderson, professor of modern languages (French), who came to DePauw in 1985; and Paul B. Watt, professor of religious studies and Asian studies since 1989.
The University is producing a DVD of its 2013 commencement ceremonies. Learn more about the professionally replicated disc in this article. An online order form is available here.
For more information on DePauw's 174th annual commencement, click here.
Back