"Lean In to the Unfamiliar," Teach For America's Elisa Villanueva Beard '98 Advises DePauw's Class of 2013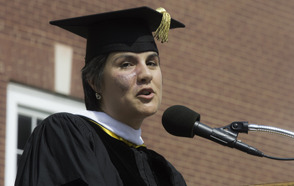 May 19, 2013
Key Links: Mark Fadel '13 Addresses Classmates; Three Receive Honorary Degrees; Webcast; Order Your DVD
"To reach your potential as leaders, you've got to spend time getting to know who you are," Elisa Villanueva Beard, co-chief executive officer of Teach For America and 1998 graduate of DePauw University, told her alma mater's Class of 2013 this morning. In the principal address at DePauw's 174th commencement, she stated, "And to truly know yourself, you're going to have to be in some situations that make you uncomfortable. For it is only by pushing ourselves that we find our real strength, and only by embracing the unfamiliar that we grow."
Villanueva Beard continued, "If you can do that, Tigers, you'll uncover the values that will ground and guide you for the rest of your lives. And you may well discover that the differences that set you apart are often your greatest assets."
Sunny skies and warm conditions greeted the graduates and their families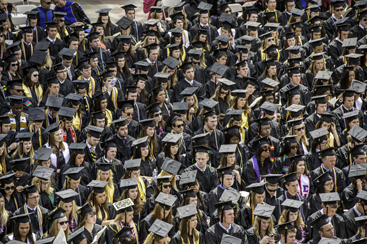 who gathered at Holton Memorial Quadrangle as 571 bachelor's degrees were awarded. Villanueva Beard was presented with DePauw's Young Alumni Award and three other distinguished individuals -- Margaret G. Hermann, Janet Prindle Seidler and Randall T. Shepard -- were awarded honorary doctoral degrees during the program.
"Being back at DePauw today 15 years later, I feel like I've come full circle," Villanueva Beard proclaimed. "DePauw has been the single most transformative experience of my life. It is where I discovered my passion for social justice and education that's become my life's work. More importantly, it's where I first discovered who I was and what I was about."
For a Mexican American student who came to Greencastle from the Rio Grande Valley of South Texas -- approximately 20 miles from the Mexican border -- DePauw was "literally a world away from anything I had ever known," Villanueva Beard recalled. "It was my first time in a community of people who didn't understand my heritage or background. And it was the first time I'd struggled at anything. I graduated from high school in the top 10% of my class. But as a freshman, I realized I was living the educational inequity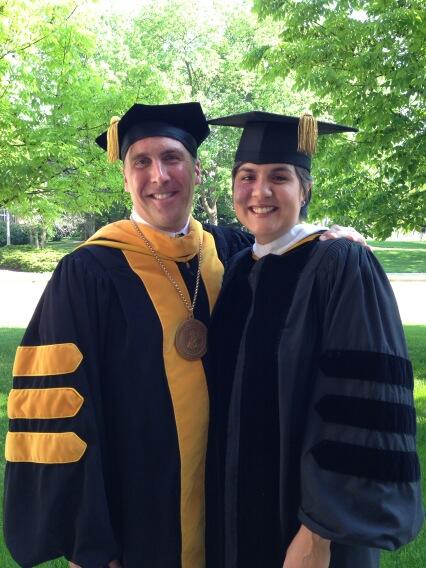 that exists in our country. Compared to my classmates, I was underprepared for the rigors of college and the expectations of my professors ... My four years here were hard as hell. But I got through it and came out the other side stronger, with a newfound sense of social responsibility." (photo: Elisa Villanueva Beard with DePauw President Brian W. Casey)
She told the graduates and commencement audience, "My freshman year experience led me to declare a sociology major. I was interested in the social constructs and the devastating consequences of persistent disparities in our society. But I still had no idea what I was going to do with it. Inspiration struck my sophomore year when I was sitting on the Kappa (Kapp Gamma) porch swing. Carla Gasbarra Lane, a fellow Kappa who had graduated the year before and was part of the 1995 Teach For America corps, told me about the work she was doing in Phoenix as a teacher. It hit me like a lightning bolt. I heard her talk about the challenges her students in Phoenix were facing, and how she was really digging in to change things for them. I knew I had to be part of that team, fighting to win for kids every day.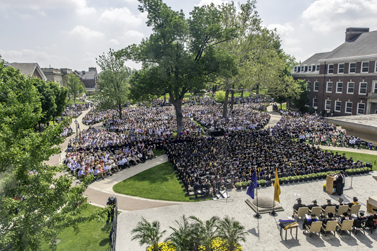 "If I hadn't sought them out, I'm not sure Teach For America would have recruited me. But I went after it -- I joined the corps, and I never looked back. Three years after I talked to Carla, I was in Phoenix, in front of 36 first-graders with no books, and not enough desks to go around. And for the next three years, I fought hard for my kids every day, and today I wake up on fire to do my job because of them."
Villanueva Beard advised the new graduates to keep their eyes, minds and hearts open. "As you start your careers, you're going to find yourself in situations where, to put it simply, you have no idea what you're doing. That describes just about every job I've ever had. And it's not necessarily a bad thing -- it's an indication that you're in a good position to learn a lot ... From corps member to executive director of the TFA region in my hometown, to chief operating officer, and now to co-CEO, every move has felt like a real stretch.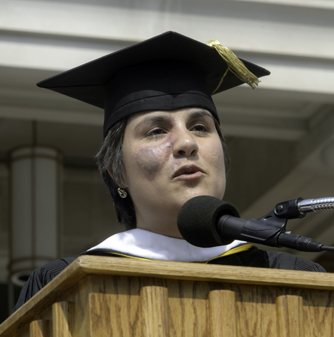 But if I hadn't stretched, I never would've figured out what my strengths were. If I hadn't learned to trust myself and push through the uncertainty, I never would have realized the full potential of the journey that started on that porch at Kappa. And I'm still growing every day."
In February of this year, Villanueva Beard was named co-CEO of the national organization, along with Matt Kramer. Under their leadership, Teach For America currently impacts more than 750,000 students in over 2,600 schools. Together they manage the leadership team, work with the board, and are held fully accountable for the organization's success.
Villanueva Beard, who played basketball at DePauw and earned a varsity letter in 1995, applauded the Tigers and their coach, Kris Huffman, for winning the 2013 NCAA Division III women's basketball championship, joking, "Coach Huffman, if you need some scoring off the bench next season, I think I've got a couple years of eligibility left -- I'm just saying."
Fifteen years after receiving her DePauw diploma, she told the Class of 2013, "You've got a lot of transitions ahead of you, and each one of them is an opportunity for self-discovery. I'm a firm believer that it's only when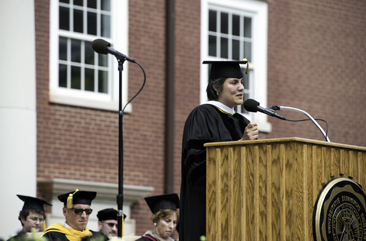 you find yourself in unfamiliar situations with unfamiliar faces that you can learn who you really are. It's when we're surrounded by difference that we see ourselves most clearly. DePauw was that moment for me. But for you it may be your next job, or your third job, or a moment of profound personal or professional loss. Some people can live their entire lives without going through that kind of soul-searching experience. They prefer to never stray out of their comfort zones. That's sad. Because those are the moments when you figure out what you stand for and what you're made of.
"So, as uncomfortable as it is, lean in to the unfamiliar," she advised the graduating class. "That was my strategy at DePauw. I had never heard of rush or Greek life before, but I wound up finding my place at Kappa and making friendships that would last a lifetime. Take that job in a completely new field you've always wanted to try. Choose to work, worship or live alongside people who have vastly different experiences than your own. And lean on the people who know you."
She concluded, "Whether you're on a clearly paved road to your dream job or you're taking the scenic route, my advice for you is the same.
Know yourself. Stretch into the unknown. And when you're on the precipice of change, jump! Jump willingly and jump far. It's going to be an incredible ride."
DePauw is producing a DVD of its 2013 commencement ceremonies. Besides capturing today's proceedings -- including footage of each graduate receiving their DePauw diploma -- the disc will contain a number of memories from the past four years, including clips of prominent visitors to campus such as Bill Clinton and Jane Goodall. Orders are now being accepted at $19.95 for the first disc; additional DVDs sent to the same address will be $8 each (7% sales tax will be added to Indiana orders).
Learn more about the professionally replicated disc in this article. An online order form is available here.
For more information on DePauw's 174th annual commencement, click here.
Back