"We Will Always Share This Bond," Mark Fadel '13 Tells Classmates as 571 Receive DePauw Diplomas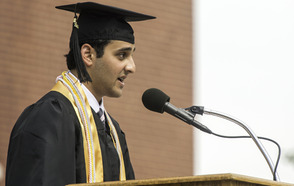 May 19, 2013
Key Links: Primary Address by Elisa Villanueva Beard '98; Three Receive Honorary Degrees; Webcast; Order Your DVD
"I have spent four years making memories with some of the smartest, kindest, most talented people," Mark A. Fadel told fellow members of DePauw University's Class of 2013 this morning. "How am I supposed to walk out of this arena and leave these memories behind?," he asked.
Fadel is the 2013 recipient of the Walker Cup, which is awarded to the senior who has contributed the most to the DePauw community during his or her four years on campus. Per tradition, the Walker Cup winner is called upon to address classmates, who sat before Fadel in Holton Memorial Quadrangle at the University's 174th commencement exercises.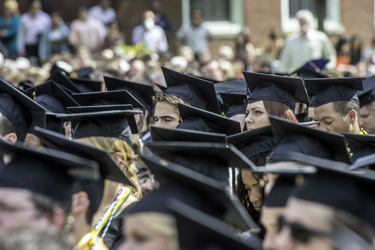 A total of 571 undergraduates received degrees during the ceremonies, which took place under warm and mostly sunny conditions.
"With the help of my mother and Randy Pausch's 'Last Lecture', I realize now that instead of grieving over leaving, I must do what Tiggers do best; bounce through life knowing I can choose to put a smile on my face even in the most difficult of times," Fadel said. "Pausch boldly claimed, 'It is not about achieving your dreams but living your life … Never underestimate the importance of having fun.' "
In his address, Fadel recalled the day in August 2009 the Class of 2013 was greeted by President Brian W. Casey, who told the incoming students that DePauw is "the best, most interesting book you can imagine." A biochemistry major and executive vice president of DePauw Student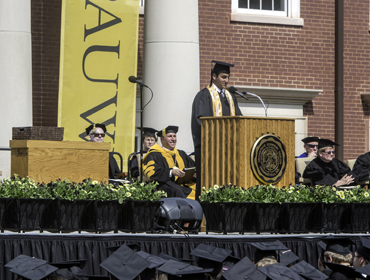 Government, Fadel also referenced key events of the past four years, including the 25th anniversary Ubben Lecture by Bill Clinton and an Ubben Debate between Karl Rove and Howard Dean.
"No matter what paths we take after today, we all will have started this great enterprise here, together at DePauw," Fadel stated. "We will always share this bond. All of our experiences are distinct but equally noteworthy; similar to a kaleidoscope made up of various colors and patterns all intertwined to make up one breathtaking image. Each of us has this exceptional picture of DePauw and understands it in ways no one else can. Our lives have been changed for the better. We are here today prepared to embrace the next chapter."
In closing, Fadel said, "I would like to thank the DePauw administration, faculty, and staff for always pushing us toward 'uncommon success' ... To my fellow classmates, quoting from a friend, continue being great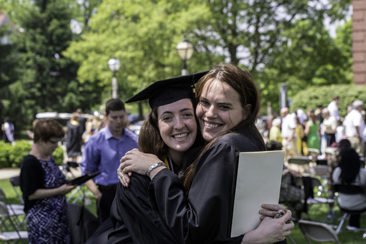 today and everyday. You are magnificent individuals, and I wish you the best of fortune. Thank you so much for this opportunity and congratulations DePauw's Class of 2013."
Elisa Villanueva Beard, co-chief executive officer of Teach For America and 1998 graduate of DePauw University, delivered the principal address at today's event, "Looking Inward, Living Onward." It is summarized, and video is available, here.
Villanueva Beard was presented with DePauw's Young Alumni Award and three distinguished individuals -- Margaret G. Hermann '60, Janet Prindle Seidler '58 and Randall T. Shepard -- were awarded honorary doctoral degrees during today's ceremonies. You'll find details in this story.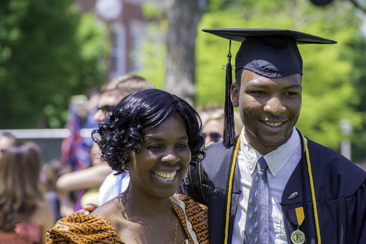 A total of 571 DePauw students received bachelor's degrees in today's ceremony.
The University is producing a DVD of its 2013 commencement ceremonies. Learn more about the professionally replicated disc in this article. An online order form is available here.
For more information on DePauw's 174th annual commencement, click here.
Back