Grover Vaughan, Longtime Chief of Campus Security, Dies at Age 91
May 25, 2013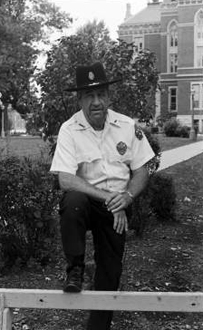 Grover A. Vaughan, who served as chief of campus security at DePauw University for 31 years, died on Tuesday, May 21, in Greencastle. He was 91 years old.
Born September 3, 1921 in Doe Run, Missouri, Vaughan served in the Army Air Corps during World War II. His career in law enforcement included service to the Greencastle Police Department and the Indiana State Police. He joined the DePauw staff in 1955 and retired after 31 years of service on October 1, 1986.
Richard F. Rosser, DePauw's seventeenth president, was serving as chancellor when Vaughan retired. Noting how he interacted with several generations of DePauw students, Dr. Rosser noted, "If there is anyone who is going to be remembered through all these years, it's going to be Grover Vaughan. I know he'll be in the next version of George Manhart's history of DePauw."
Joan Claar, dean of students in 1986, stated,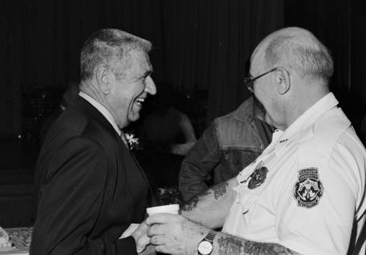 "Students don't talk about calling 'security.' They talk about calling 'Grover'. Besides his professionalism, he adds a wonderful spark to the campus and to our office." (photo: Grover Vaughan, at left, at his retirement reception in 1986)
Vaughan was a member of the Fraternal Order of Police and helped to organize and establish the Greencastle chapter.
Funeral services will be held at 1 p.m. on Thursday, May 30 at the Bittles and Hurt Funeral Home. The family will receive friends at the funeral home from 4-8 p.m. on Wednesday, May 29.
Back