Residents of Greencastle Health Care Facility Pay Tribute to National Champion Tigers
May 30, 2013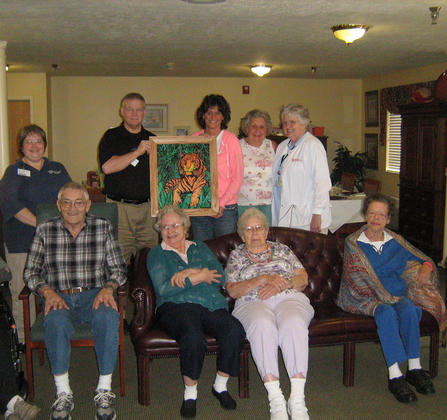 "The Memory Care Unit at Mill Pond presented DePauw women's basketball team with a painting of a tiger that they had been working on since the Tigers won the Division III national championship," reports Greencastle's Banner-Graphic. "Every Monday staff and residents scroll the newspaper to read and discuss the news stories from the weekend. The Monday after DePauw women's basketball closed their season with a perfect record and won the national championship, residents read the article in the Banner-Graphic and realized how they could use their own talents to congratulate the DePauw women's basketball team themselves."
The text, accompanied by the photo at the top of this summary, adds, "Every resident in the Memory Care Unit contributed to the painting in some fashion, once the final touches were made the residents invited Coach Kris Huffman to come for an open forum to present her with the painting in recognition for the team's perfect season and the great tradition she and her staff have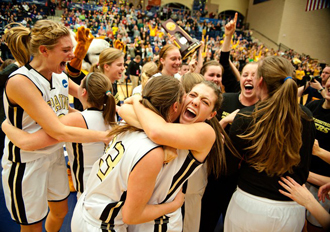 built at DePauw University."
Access the piece at the newspaper's website.
DePauw won its second national title on March 16 with a 69-51 victory over Wisconsin-Whitewater in the NCAA Division III national championship game, becoming the only team in NCAA Division III women's basketball history to win 34 games in a season.
Kris Huffman was inducted into the Indiana Basketball Hall of Fame last month. You'll find details in this article.
Back