President Emeritus Bob Bottoms Recalls Margaret Thatcher's 1992 Visit to DePauw
April 9, 2013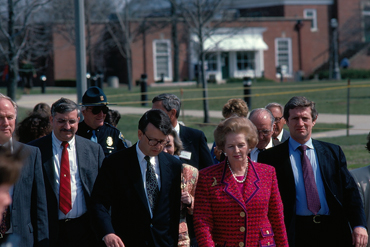 "It was a great day for us at the University," President Emeritus Bob Bottoms told Indianapolis radio station WIBC this morning as he recalled the April 7, 1992 visit to campus by former British Prime Minister Margaret Thatcher. Dr. Bottoms was invited to share his reflections a day after Thatcher's passing. She was 87 years old.
"The thing I most remember about that day is the conversation we had coming over from the Indianapolis airport," DePauw's eighteenth president told WIBC's Steve Simpson. "You know, it takes about 45 minutes to an hour to get to Greencastle.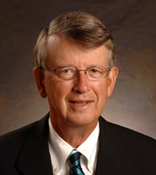 She had met me, a perfect stranger, and she talked candidly about her views of the current politics, her appreciation particularly of Ronald Reagan, and wishing -- at that point in time she said the American political system would be much better if the president had to go down, as she often did, to the House of Commons and talk face-to-face."
Robert G. Bottoms led DePauw from 1986 to 2008.
The complete segment is embedded below.
Thatcher came to DePauw as a guest of the Timothy and Sharon Ubben Lecture Series. Yesterday, Indianapolis ABC affiliate WRTV came to campus and discussed Thatcher's legacy with political science professors Nafhat Nasr and Brett O'Bannon.
Indianapolis NPR affiliate WFYI-FM aired a report which included segments from Margaret Thatcher's DePauw speech as well as comments from Ken Owen '82, executive director of media relations at the University, who has coordinated the Ubben Lecture Series since 2002.
Learn more in this summary.
Source: WIBC/Indianapolis
Back