Lee Hamilton '52 to Keynote Inaugural Becky Skillman Leadership Institute
June 3, 2013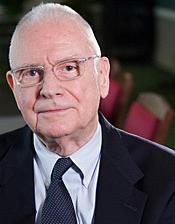 Lee Hamilton, a 1952 DePauw University who served 34 years in the U.S. House of Representatives, will be the keynote speaker for the first Becky Skillman Leadership Institute. The event will take place July 12 in Bedford, Indiana.
Joining Hamilton on the program will be U.S. Senator Dan Coats. The program will raise funds for the Boys and Girls Club of Lawrence County.
To learn more, and get ticket information, click here.
Now director of the Center on Congress at Indiana University, Lee H. Hamilton co-chaired the 9/11 Commission and Iraq Study Group. Newsweek has called Hamilton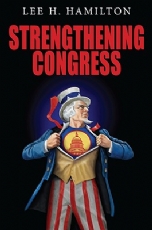 "Mr. Integrity," while the New York Times' David Brooks opined of Hamilton, "The country is hungering for leaders like him: open-minded, unassuming centrists who are interested in government more than politics."
The Democrat authored Strengthening Congress; How Congress Works and Why You Should Care and A Creative Tension: The Foreign Policy Roles of the President and Congress. He has been a frequent visitor to DePauw over the years, and delivered an Ubben Lecture on March 15, 2011.
The former congressman authors regular newspaper op-eds. His latest essay is summarized here.
Back