Five Tigers Earn All-NCAC Honors; Huffman Named League's Top Coach
February 26, 2013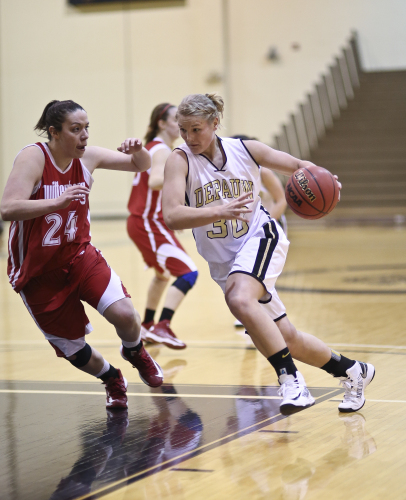 Greencastle, Ind. - All five DePauw starters earned recognition from the North Coast Athletic Conference and their coach, Kris Huffman, took home the league's top honors.
Junior forward Alex Gasaway (Crawfordsville, Ind/Crawfordsville) and senior guard Kate Walker (Indianapolis, Ind./Perry Meridian) were named to the third team, while senior forward Ellie Pearson (Madison, Wis./West) and sophomore guard Savannah Trees (Libertyville, Ill./Libertyville) were second team choices and junior guard Ali Ross garnered honorable mention.
Gasaway (pictured above right) is the Tigers' leading scorer at 14.1 points per game, while shooting a team-best 53.1 percent from the floor. Her 6.5 rebounds per outing are second on the squad as are her 45 steals.
Walker (left), a second team choice last year, paces DePauw with 3.9 assists per contest and is third in scoring with 8.1 per contest while maintaining a 2.84:1 assist-to-turnover ratio.
Pearson leads the Tigers with 7.5 rebounds, 1.9 steals and just under one block per outing and is second with 49.1 percent shooting from the floor. She was an honorable mention choice last year. Trees is second on the team with 11.0 points each contest and leads with 48 three-pointers, while hitting 47.1 percent from beyond the arc.
Ross, who was a first team selection in 2012, averages 7.8 points and is third with 1.4 steals and tied for third with 1.7 assists.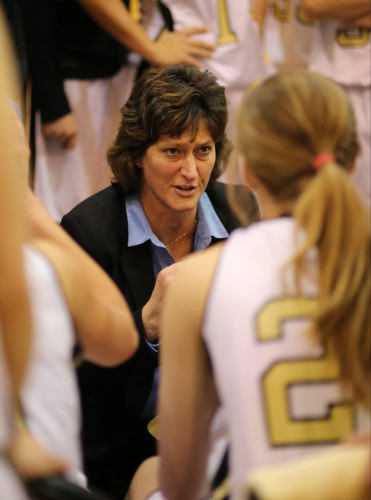 Huffman was named the NCAC Coach of the Year for the second straight season after leading the Tigers to their first perfect regular season at 28-0 and their second NCAC regular season and tournament title. DePauw has been ranked number one in the nation for most since late November.
In her 20th season as DePauw's head coach, Huffman has directed her Tigers teams to a 460-102 mark including a 249-31 record in conference games. This marks the 11th time she's collected conference coach of the year honors.
By virtue of Saturday's 64-49 win over Kenyon in the NCAC Tournament championship game, DePauw earned its 10th straight trip to the NCAA Championship and the Tigers host La Roche in the first round on Friday, March 1.
For more information on the DePauw women's basketball program, follow DePauw on Twitter (@DePauwAthletics / @DePauw_WBB) or like them on Facebook (www.facebook.com/DePauwAthletics).
Back