Commencement DVD is Here and Begins Shipping Today
June 10, 2013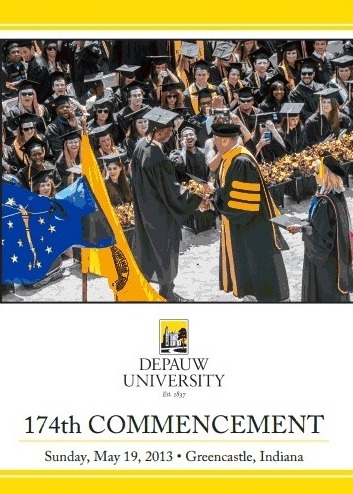 Three weeks after the event took place, the DVD of DePauw University's May 19, 2013 commencement exercises has arrived from the replicator in New Jersey and will begin shipping today. (at right: the front cover of the DVD package)
The dual-layer disc also includes an array of features from the Class of 2013's time on campus. The DVD was manufactured in limited quantities; orders are still being accepted at $19.95 for the first disc; additional DVDs sent to the same address are $8 each (7% sales tax will be added to Indiana orders). An online order form is available here.
The commencement coverage includes footage of each graduate receiving their DePauw diploma and speeches by Teach For America co-CEO Elisa Villanueva Beard and Walker Cup recipient Mark Fadel '13. The more than five hours of content on the disc also includes campus highlights of the past four years (ranging from clips of the opening convocation at which the Class of 2013 was welcomed to DePauw by President Brian Casey, the opening of Eli's Books/Starbucks on the square, the national champion women's basketball team, and clips of Ubben Lecturers such as Bill Clinton, Jane Goodall, Rebecca Skloot,
Candy Crowley, and Karl Rove and Howard Dean); "Monon Memories" of the last four football battles with Wabash College for the prized Monon Bell; a commencement photo gallery which includes hundreds of images; and vintage film from the DePauw Archives.
It's the 32nd DVD that DePauw has produced. Past projects include 15 Monon Bell Classics (1977, 1994 and 2000-12), some of which remain available here (supplies are very limited of the 2002, 2007 and 2010 DVDs; the 2006 and 2009 discs are sold out). Also available are DVDs of the 2002-12 commencement ceremonies via this link.
Back