Rev. Peter Curts '06 Named Teaching Pastor at Southern Indiana Church
June 19, 2013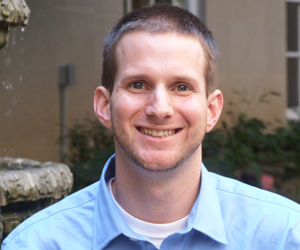 Peter H. Curts, a 2006 graduate of DePauw University, has been appointed teaching pastor at Wesley Chapel United Methodist Church in Floyd County, Indiana. He comes from Meridian Street United Methodist Church in Indianapolis, where he served as associate pastor of hospitality for the past two years. Rev. Curts will assume his new post effective July 1.
"I am excited about the opportunities to extend hospitality, reach out to people, sit down for a cup of coffee with them, and develop relationships as I become acquainted with my new community," Curts tells the Banner-Gazette. "So I welcome people to take me up on that invitation."

"A native of Noblesville, Ind., Rev. Curts grew up in the congregation of the large St. Luke's United Methodist Church in Indianapolis," notes the newspaper. "He earned a bachelor's degree in philosophy and religion from DePauw University and a master of divinity degree from Asbury College. He serves on the Strategic Planning Committee for the Indiana Annual Conference of the United Methodist Church."
Read more here.
Back