Beloved Icon of DePauw Who Led The College Twice, Bob Farber '35 Dies at Age 99
June 20, 2013
Robert H. Farber, a 1935 DePauw graduate who served as an administrator at the University for 42 years, working with five presidents and serving twice as the interim leader of the college, passed away peacefully at about 10:30 last night at Asbury Towers in Greencastle. The vice president and professor emeritus of education was 99 years old.
A memorial service for Dr. Farber will take place on Friday, June 28, at Gobin Memorial United Methodist Church. Visitation will begin at 10 a.m. with the service following at 11.
Dean Farber's death comes seven months after the passing of his second wife, Vera May Kierstead Farber '36, who was also 99. His first wife, Edna, died in 1997.
"Bob Farber's love of DePauw was unparallelled," said President Brian W. Casey. "I feel privileged to have called him my friend and fortunate to have had so many opportunities to visit with him over the past few years. It's clear why generations of DePauw alumni see Bob as a symbol of the very
best of DePauw -- intelligent, energetic, friendly, and intensely loyal. Our thoughts are with the Farber family as we remember our dear friend." (at left: Jane Pauley visits with Bob and Vera May Farber before Pauley's Ubben Lecture at DePauw; April 17, 2009)
Robert Holton Farber was born January 12, 1914 in Geneseo, Illinois. A Rector Scholar at DePauw, he graduated with distinction in 1935 as a member of Blue Key. A year later, he returned to DePauw to work as an administrator, then spent one year as a speech teacher at the Bloomington, Indiana high school. Farber returned to DePauw in 1937 as secretary of admissions and assistant director of the Rector Scholarship Foundation, leaving again in 1941 to join the U.S. Army.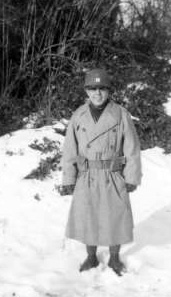 During World War II, Farber rose from the rank of private to the rank of major, and at the end of his military career in 1946 he was classification officer with the Third Army. He served in the European Theater and earned the Bronze Star. (at right: Farber in France during the Battle of the Bulge)
In 1945, Farber rejoined the DePauw staff as director of veterans affairs and head of the University's placement bureau. Two years later he became assistant dean of students, director of the Rector Foundation, and director of placement.
Dr. Farber earned a Master of Arts degree from the University of Chicago in 1940 and the Doctor of Education degree at Indiana University in 1951.
Bob Farber was appointed dean of the University on April 19, 1952. Following the sudden passing of DePauw President Russell J. Humbert on June 2, 1962, Farber was named chief administrative officer of DePauw. He was appointed vice president of the University on October 16, 1974, and two years later was called upon to serve as DePauw's acting president, a post he held for five months until the appointment of Richard F. Rosser. Farber retired as vice president and dean of the University in 1979.
Farber served as president of the Indiana Association of Academic Deans, the North Central Association of Academic Deans, and the National Summer Conference of Academic Deans; and chaired the Indiana Honors Conference. He led a goodwill mission to the Orient in 1972, and served as a consultant to the Peace Corps,
United Methodist Church, and the International Cooperation Administration. Farber's articles were published in Higher Education, Studies in Education, School and Society, and College and University Business.
Over the years, DePauw presented Bob Farber with many honors. In 1960, he received the Rector Scholar Alumni Achievement Award. He was presented with the Old Gold Goblet -- DePauw's highest alumni award honoring "eminence in life's work and service to alma mater" -- in October 1980. Farber also received the students' Leather Medal for service to DePauw as well as an honorary doctoral degree. (at right: Edna and Bob Farber at his retirement party in 1979)
In October 2010, Farber became the first individual inducted into the Putnam County Community Foundation's Corinthian Society.
The beloved administrator was seen on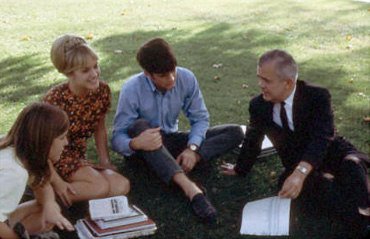 national television several times. He was one of several individuals from DePauw featured on the November 16, 1953 edition of the game show, 20 Questions, and was part of the NBC broadcast of the 1958 commencement speech by British Prime Minister Harold Macmillan from Blackstock Stadium.
In 2006, Farber and his wife were seen on the national telecast of the Monon Bell Classic. In the clip, Dr. Farber recalled attending the very first game for which the Monon Bell was the winner's prize, in 1932, as a student:

[Download Video: "Remembering 1932" - 4505kb].
"I was a fullback for four years in high school, but I cannot say that [DePauw's legendary football coach] Gaumey Neal recruited me," Bob Farber said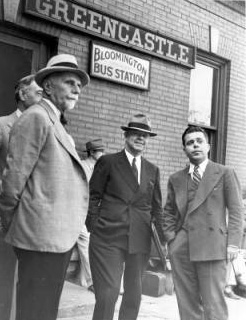 as he received the Old Gold Goblet. "In fact, when I talked to him that freshman year, I had the impression that he thought I should try out for the debate team. That was in 1931, almost 50 years ago. Except for the war years, I have been here ever since. Some say I came to DePauw and never got out," adding, "it has been a rewarding experience." (at right: circa 1936 photo shows, l-r, Professor Henry B. Longden, 1881 graduate and former acting president of DePauw; President Clyde B. Wildman '13; and Farber at the Bloomington Bus Station in Greencastle)
Addressing the 50th reunion of his graduating class on June 8, 1985, Farber spoke of DePauw traditions, such as the ringing of the East College bell, and how they speak for a college steeped in tradition, intellectual rigor and a social environment that creates friendships which last lifetimes.
"So for us today, the bell rings for the ideals of the old school, a school which has stood the test of time and to which our class and alumni before and after have remained so loyal," Dr. Farber declared. "That spirit was described by Edward Rector when he talked about his investment in humanity when the men and women we know will be gone, and by Dr. Clyde Wildman [former DePauw president and 1913 graduate] when he wrote, 'What is
DePauw? It is the Boulder, the Monon Bell, the Owl. It is the band playing, 'March, march on down the field,' and the orchestra playing a symphony. It is a spirit, a spirit of democracy, of veneration for religion and learning. It is a reality and an ideal. It is all who have ever been on the campus and all who will ever come here. And when you leave this place, there will be a part of DePauw, and in your memory this college can go with you.' So where is DePauw? It is in the hearts and minds of those who love it." (above left: the Farbers ride in the Old Gold Day parade, 1980)
Back