Move-In Day at DePauw Covered by Indy TV Stations
August 17, 2002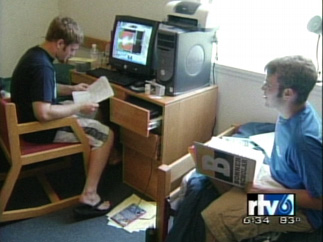 August 17, 2002, Greencastle, Ind. - "More than 700 incoming students are moving in this weekend at DePauw, and the fact they have places to move into is largely thanks to a busy summer of construction on campus," Vince Robinson reported this evening on Indianapolis ABC affiliate WRTV. The station was on hand today as DePauw's Class of 2006 arrived on campus.
The story tells of how the University responded to April's fire at Rector Hall, a dormitory on campus, by creating new residential units -- including duplexes -- for students. Workers had a busy summer readying the units for returning undergraduates.
See the report, which includes several interviews with new students, below.
Indianapolis CBS affiliate WISH tells of how the University adjusted for the bigger than expected class and shows students moving into their living units. The report by Twila Snyder can be viewed below.
A summary of today's Opening Convocation for the Class of 2006 is available here.
Source: WRTV & WISH (ABC & CBS)/Indianapolis
Back