Penny Sitler '82 Honored with 2013 Women in AV Award
June 26, 2013
P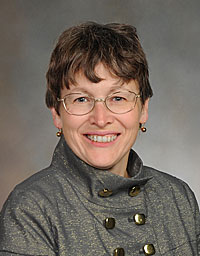 enny (Rutherford) Sitler, advertising manager for Draper Shade & Screen Co. and 1982 graduate of DePauw University, is the recipient of a 2013 Women in AV Award from InfoComm International. The trade association representing the professional audiovisual and information communications industries worldwide, InfoComm International each year "acknowledges the contributions of two current women InfoComm members who have taken marked initiative and exhibited strong leadership in the AV industry."
Sitler first came to Draper in 1978 as a summer intern, and returned following her graduation from DePauw in 1982 as Draper's first salaried female employee.
"We're all proud of Penny for getting this recognition," says Draper President John Pidgeon, a 1966 DePauw graduate. "She is one of several 'home grown' talents we have at our company, and this recognition of her abilities is not only well-deserved but also long overdue."
Pidgeon notes that Sitler has mentored, trained, and supported other women -- both at Draper and other businesses -- in professional and management roles, has hired and mentored many female student interns, and has presented in-house leadership classes for women at Draper.
Sitler received LEED AP certification in 2007 and served as a panelist at the Women in AV luncheon at InfoComm in 2012.
Learn more about Penny Sitler and Draper in this previous story.
Back