Dean Bob Farber '35 is Keynote Speaker at Dedication of New Indiana HS
December 3, 1959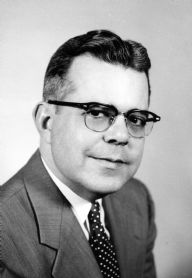 December 3, 1959, Greencastle, Ind. - A Mooresville Times article detailing the November 29 dedication of the new high school building in Mooresville, Indiana, notes, "Dean Robert Farber of DePauw University gave the main address stressing today's greater need for citizens of great ability. He said the schools have the task of imparting knowledge, understanding, and aid to the student in his search for meaning in life."
The newspaper account states that approximately 300 people attended Sunday's event, which concluded with the placement of a time capsule by the entrance of the new high school.
Robert H. Farber, DePauw's academic dean, is a 1935 graduate of the University. He was elected last year to the Commission on Colleges and Universities of the North Central Association.
Back