Brad Stevens '99 Named Head Coach of NBA's Boston Celtics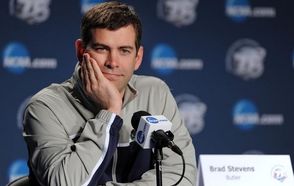 July 3, 2013
Brad Stevens, the 1999 DePauw University graduate who has spent the last six seasons as head men's basketball coach at Butler University, announced this afternoon that he has accepted the head coaching position with the National Basketball Association's Boston Celtics.
"Our family is thrilled for the opportunity given to us by the leadership of the Boston Celtics, but it is emotional to leave a place that we have called home for the past 13 years," said Stevens. "We truly love Butler University and Indianapolis, and are very thankful to have had the opportunity to celebrate so many wonderful things together."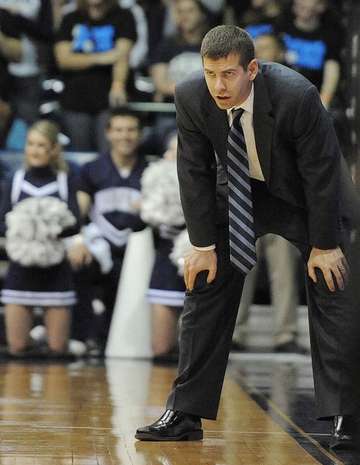 An economics major at DePauw, after graduation Stevens took a job in marketing with Eli Lilly & Company -- where he'd interned as a Management Fellow -- but decided his passion was coaching. He left the pharmaceutical company for a volunteer coaching position and before long was on the Butler staff, eventually becoming an assistant for the Bulldogs. On April 5, 2007, Stevens was named -- at age 30 -- to lead Butler's Division I men's basketball program. Now 36, he has led the Bulldogs to a 166-49 record, including a 12-5 record in the NCAA Men's Basketball Championship and two consecutive trips to the national championship game (in 2010 and 2011). His 166 wins is the most for any NCAA Division I basketball coach over the first six years to start a career.
"Brad and I share a lot of the same values," noted Danny Ainge, president of basketball operations for the Celtics. "Though he is young, I see Brad as a great leader who leads with impeccable character and a strong work ethic. His teams always play hard and execute on both ends of the court. Brad is a coach who has already enjoyed lots of success, and I look forward to working with him towards Banner 18."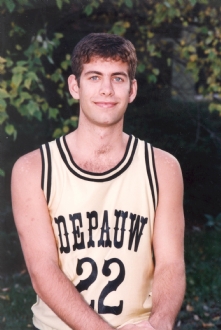 Stevens and his wife and DePauw classmate, Tracy (Wilhelmy), along with their children Brady and Kinsley, will be introduced to the media at a news conference Friday morning.
Read more at Butler's website and at USA Today.
At DePauw, Brad Stevens played four seasons for coach Bill Fenlon, earning all conference and academic all conference honors all four years. The two were featured in a half-hour program on FOX Sports Midwest in June 2010 as well as a Sports Illustrated article. You can learn more about his college playing career here.
On April 13, 2010, Brad Stevens returned to his alma mater to deliver the Robert C. McDermond Lecture, telling an audience in Kresge Auditorium, "Surround yourself with the right people and focus on the right things and you can achieve well beyond what you thought you could."
Back