App Developed by Three From DePauw Featured in Indianapolis Star
July 7, 2013
"In a tight spot where a 911 call would be overkill, but you sure could use a helping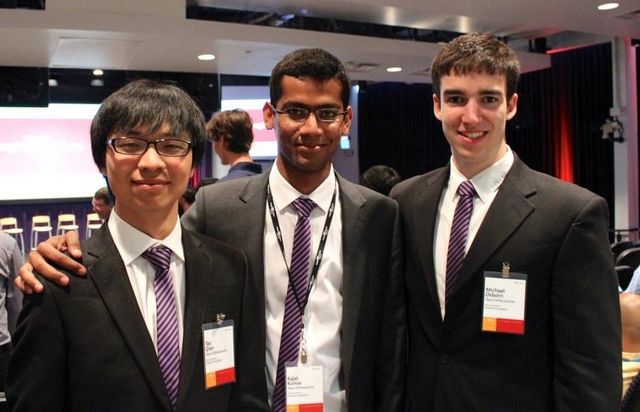 hand?," asks the Indianapolis Star's "Biz Buzz" column. Jeff Swiatek writes, "You guessed it: There's an app for that. Named WeAssist, the app was parented by DePauw University students Rajat Kumar, Michael Osborn and Tao Qian. They won a recent trip to Microsoft's annual Imagine Cup U.S. finals in Silicon Valley to demo the new product." (photo, l-r: Tao Qian, Rajat Kumar and Michael Osborn)
The text continues, "WeAssist allows users to share their location and send a message in a bind, such as when your car breaks down and you need a ride, or you want someone to walk you to the parking lot late at night. There also is a way for WeAssist users to help one another by sharing requests publicly. The app is being tested by DePauw students and in Greencastle," with expansion planned.
Access the full piece, headlined "DePauw trio win trip to Microsoft's Imagine Cup U.S. finals," at IndyStar.com.
Osborn is a May 2013 graduate of DePauw, while Kumar and Qian will be juniors this fall. They were the subjects of this April story.
Back