Lee Hamilton '52 on Americans' Waning Confidence in Government
July 13, 2013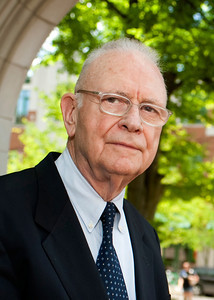 Lee H. Hamilton, the 1952 DePauw University graduate who served 34 years in the U.S. House of Representatives, is alarmed by a Gallup poll last month which found that only 10 percent of Americans trust Congress as an institution. In a newspaper op-ed he writes, "Think about it. If you walk into a cafe this morning and there are nine other people in there reading the paper or staring into their laptops, only one of you in the room has faith that the body charged with making our nation's laws can do its job right."
The presidency didn't go a great deal better, Hamilton notes. Just 36% of Americans have confidence in that office, and the U.S. Supreme Court comes in at 34%, down three points from last year. The military topped the confidence poll.
"What lies behind Americans' doubts and cynicism about the three major branches of the federal government -- with the exception of the military -- is undoubtedly a mix of factors. But I suspect it rests most heavily on a broad perception of dysfunction and a deep distaste for the extreme polarization and politicization these institutions have displayed."
According to Hamilton, "We've always looked on the Supreme Court as standing above politics, for instance. Most noticeably starting with its Bush v. Gore decision in the wake of the 2000 elections, however, the court has come to be seen as divided into political factions, with each trying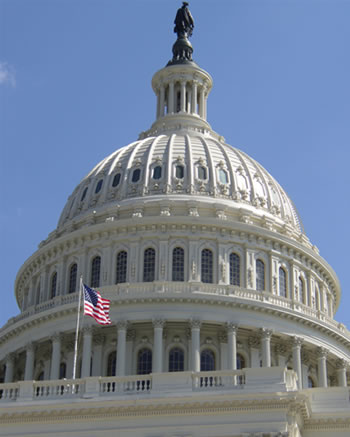 to advance its own agenda. It is now perceived less as an institution of law and more as a political institution."
When it comes to Congress and the presidency, Hamilton notes that these days, "Campaigns are as much or more about attacking the other candidate as they are about debating substantive issues. Every move that members of Congress make -- and that many Republicans believe the president makes -- appears to be about 'playing to the base' or putting the other side in an uncomfortable spot. Resolving problems because they need to be resolved -- especially the ones that Americans consider most important, like jobs and the economy -- doesn't seem to be on the agenda."
He notes, "Americans' lack of confidence in their governing institutions makes correcting most any political or policy problem more difficult. The voters are less open to policymaking or reform, since they don't trust that government can actually solve the issue in front of it. Politicians tend to back away from bold initiatives and become less willing to speak out or to act, because they anticipate the dubious stance with which their proposals will be received. Much-needed reforms -- to repair the tax system, for instance, or to reshape government institutions -- will be met with skepticism if not indifference. The result is that only very modest efforts can be expected, reaffirming voters' belief that government can't be trusted to work."
The Democrat concludes that "if members of Congress, the White House, and even Supreme Court justices want Americans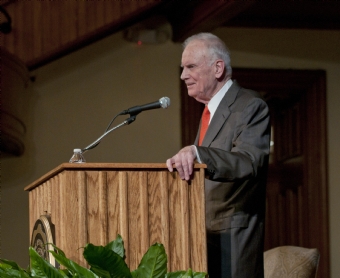 to treat them seriously then they won't treat our declining confidence in them lightly. They have to invigorate their efforts to renew Americans' trust. Because unless they can do that, it will get harder and harder for them to do their jobs."
Access the complete essay at the South Bend Tribune's website.
Now director of the Center on Congress at Indiana University, Lee Hamilton authored Strengthening Congress; How Congress Works and Why You Should Care; and A Creative Tension: The Foreign Policy Roles of the President and Congress. A history major and basketball standout as an undergraduate, Hamilton has been a frequent visitor to DePauw over the years, and delivered an Ubben Lecture on March 15, 2011.
Back