Amy Elaine Hayes '05 & Steven Linville '06 'Reunited' at Wednesday Concert
July 23, 2013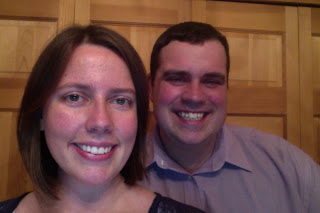 Two alumni of the DePauw University School of Music -- Amy Elaine Hayes '05, soprano and founder of the Intimate Opera company in Indianapolis, and Steven Linville '06, tenor and assistant to the dean of the School of Music -- will perform tomorrow as part of the Greencastle Summer Music Festival. The program, "Reunited -- A Night of Musical Memories" , will begin at 7:30 p.m. Wednesday in Gobin Memorial United Methodist Church and is free and open to all.
"This concert truly exemplifies the 'friends making music for friends' mission of the festival," Eric Edberg, professor of music at DePauw and founder/director of the festival, tells the Banner-Graphic. "Amy and Steven have been great friends since their student days, and bring an infectious enthusiasm and sense of entertainment along with their wonderful training."
"It's a real treat for Greencastle to get a sneak preview since we rarely perform scenes ahead of time," notes Hayes. "Our show The Witch of the Place is a one-woman show based on the character Miss Havisham from Charles Dickens' Great Expectations. It's unlike anything I've ever done before. While she's a disturbing character, she's also quite funny and by far the most interesting character I've ever played. These are just a few of the pieces that I will be performing."
Read more at the newspaper's website.
Back