At DePauw, NBA Coach Brad Stevens '99 Was "Challenged to Think and Learn and Grow"
July 24, 2013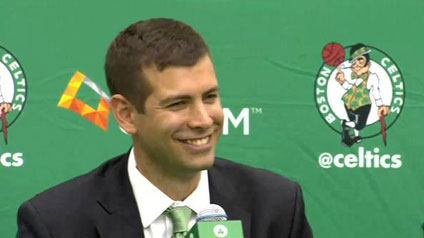 "I knew that if I went to DePauw I'd be challenged to think and learn and grow," Brad Stevens, head coach of the Boston Celtics and 1999 graduate of the University, tells the Banner-Graphic. Today's edition of the Greencastle newspaper includes an interview by sports editor Grant Wieman, conducted yesterday, in which Stevens reflects on his time at DePauw and on the challenges he faces as he transitions from coaching at the college level (at Butler University) to the NBA. (photo courtesy Boston Celtics)
Stevens tells the paper, "A lot of my family on my mom's side went to DePauw, and my dad was the team doctor for DePauw athletics since the early 80s."
Wieman writes, "After an impressive high school career in both basketball and academics, Stevens had a variety of collegiate choices available to him. When he met with DePauw's coach and looked at the academic options available to him there, it was an easy decision. 'I love coach [Bill] Fenlon,' Stevens said. 'Ultimately, I made the decision because of coach Fenlon and because of the Management Fellows program ... I just wanted to go and get a great education and figure out what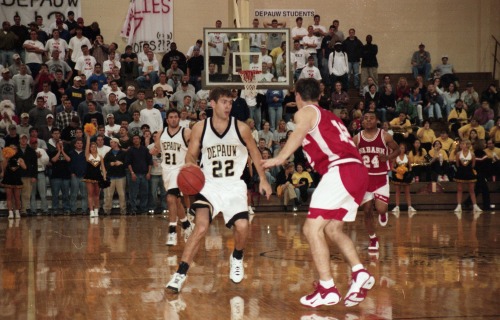 I wanted to do next.' "
The piece adds, "The Management Fellows led to a job at Eli Lilly after he graduated. The compatibility with Fenlon helped fuel his passion for coaching, and his analytics style. Stevens studied economics and has always been a numbers guy. This lines up perfectly with the coaching philosophy of Fenlon. DePauw's coach uses analytics and stats to develop game strategies, both over and on specific plays. He has done elaborate research on outcomes and philosophies. Everything comes down to numbers for Fenlon, including which side of the court the guard calls a timeout. That detail, and communicating it to his players, is something Stevens has also tried to do. He said he's not trying to copy Fenlon's style, it's just 'kind of the way you're wired.' " (above left: Stevens in action versus Wabash College, 1999)
Stevens earned all conference and academic all conference honors all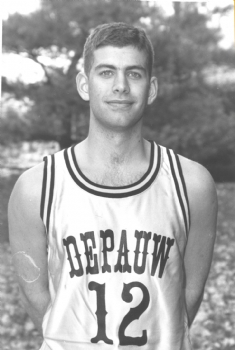 four years at DePauw. He and Fenlon were featured in a half-hour program on FOX Sports Midwest in June 2010 as well as a Sports Illustrated article.
"Certainly I remember him using numbers quite a bit," Stevens tells the Banner-Graphic. "Every guy learns differently, but numbers can be very effective in telling a story and communicating a strategy."
You'll find the complete story -- "Career at DePauw helped shape Celtics coach Stevens" -- at the newspaper's website.
Stevens announced he was leaving Butler for the Celtics on July 3 and was formally introduced at a Boston news conference two days later.
Brad Stevens and several of his DePauw teammates were quoted in a Boston Globe article published yesterday.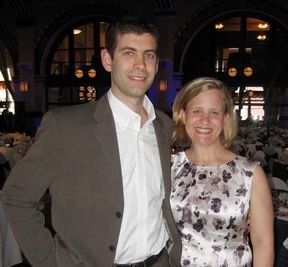 On July 15, his wife, agent and DePauw classmate, Tracy Wilhelmly Stevens, was featured by an Indianapolis television station.
On April 13, 2010, Brad Stevens returned to his alma mater to deliver the Robert C. McDermond Lecture, telling an audience in Kresge Auditorium, "Surround yourself with the right people and focus on the right things and you can achieve well beyond what you thought you could."
Back