Magazine Notes DePauw Research on Communicating Through Touch
July 27, 2013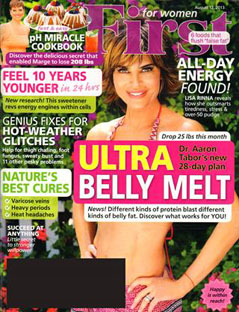 The August 12 issue of First For Women magazine cites DePauw University as the source for this statistic -- "78%: accuracy with which people communicate emotions like fear and love through touch alone."
Appearing on page 42, the figure is the result of research conducted at DePauw by Matthew J. Hertenstein, associate professor of psychology. Dr. Hertenstein's research on communicating through touch has been featured in O, The Oprah Magazine, NPR and Psychology Today, and was the subject of an interview by ABC's Diane Sawyer as well as an article in the New York Times. The DePauw professor is the co-editor of The Handbook of Touch: Neuroscience, Behavioral, and Health Perspectives, published by Springer.
Research by Matt Hertenstein and his students on smiling in yearbook photos and whether subjects became divorced later in life received worldwide attention in the spring of 2009. The findings were initially published in the journal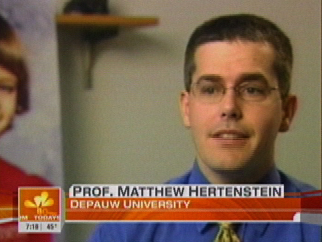 Motivation and Emotion. Coverage began in British media outlets, and spread to United Press International, Yahoo! and a piece which aired April 16, 2009 on NBC's Today. The research project was included in the New York Times Magazine's "Ninth Annual Year in Ideas" and was cited by India Today, New Scientist and British Columbia's Province.
Visit Professor Hertenstein's Touch and Emotion Lab online by clicking here.
Source: First For Women
Back