Prof. David Newman Helps American Sociological Association Honor Radio's Ira Glass
August 14, 2013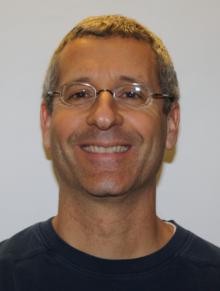 David M. Newman, Lester M. Jones Professor of Sociology at DePauw University, was among a group of sociologists that honored Ira Glass and the producers of This American Life over the weekend in New York City at the the annual meetings of the American Sociological Association. Dr. Newman participated in a panel, "Public Sociology in Action: Honoring the Contributions of Ira Glass and This American Life." Glass was present for the session, and was awarded the ASA's Excellence in the Reporting of Social Issues Award.
The panel featured a "conversation between This American Life producers, the audience, and sociologists who have participated in the show or use it in teaching. (It) focus(ed) on the role sociological perspectives and research take in the show's production, and the ways This American Life contributes to sociological expression and teaching."
The award, presented Sunday, August 11, "honors individuals for their promotion of sociological findings and a broader vision of sociology," according to the organization. "The ASA would like to recognize the contributions of those who have been especially effective in disseminating sociological perspectives and research. The ASA is cognizant of the fact that there are many professionals (e.g., journalists, filmmakers) whose job it is to translate and interpret a wide range of information, including sociological perspectives and research, for the general public." Past recipients include Barbara Ehrenreich, Katha Pollitt, David Brooks, Michael Apted and Malcolm Gladwell.
You'll find more information here. (photo at left shows Glass at the podium, Dr. Newman seated at right)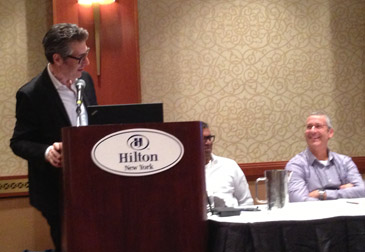 This American Life is an award-winning, weekly public radio show broadcast on more than 500 stations to about 1.8 million listeners. It is produced by Chicago Public Media and distributed by Public Radio International. The program is often the most popular podcast in the country, with around 850,000 people downloading it each week. Ira Glass visited DePauw in 2002.
David Newman's books include Sociology: Exploring the Architecture of Everyday Life (Brief Edition), Families: A Sociological Perspective; Sociology: Exploring the Architecture of Everyday Life; and Identities & Inequalities: Exploring the Intersections of Race, Class, Gender, and Sexuality. Learn more in this previous story.
Back