Prof. Geoff Klinger '88 Analyzes Dr. King's 'Dream' Speech & Its Staying Power
August 27, 2013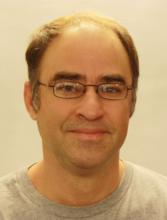 The "I have a dream" section of Martin Luther King Jr.'s historic speech at the March on Washington in 1963 "was just one of many high points in what Geoffrey Klinger, associate professor of communications at DePauw University, says is one of the strongest speeches in the history of American public address -- or, as he calls it, 'the Snickers bar of rhetoric.' " The Root gets analysis from Klinger and others in a piece marking the 50th anniversary of the address.
Jenée Desmond-Harris writes, "Beginning with language echoing Lincoln's Gettysburg Address, juxtaposing the Emancipation Proclamation with 'the tragic fact that the Negro is still not free' and announcing the 'promissory note' owed to black Americans, as well as the country's responsibility to 'make good on that bad check,' King expertly used 'borrowed ethos,' calling up sources ranging from America's founding documents to patriotic songs, Klinger says. Even the Old Testament passages were wisely selected for broad, Christian and Jewish appeal and freedom-seeking themes. Then there's the speech's generous use of archetypal metaphor, rich with vivid imagery and dramatic comparisons: the 'quicksands of racial injustice' versus the 'solid rock of brotherhood'; the 'jangling discords of our nation'
versus the 'beautiful symphony of brotherhood'; the 'sweltering summer of the Negro's legitimate discontent' compared to the 'invigorating autumn of freedom and equality.' King also leaned on anaphora -- or repetition -- to drive home his point, says Klinger. But the dream refrain is just one of many uses of the technique." (at left: Dr. King speaking from the pulpit of Gobin Methodist Church on the DePauw campus; September 5, 1960)
Access the complete article -- " MLK's 'Dream': How the Speech Became Popular" -- here.
A 1988 graduate of DePauw, Geoff Klinger serves as the University's director of forensics. Learn more in this previous story.
Back