From Prose to Script to Screen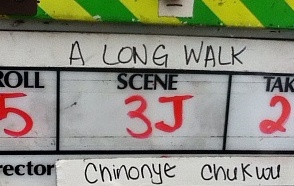 August 28, 2013
'Tell me a powerful story from your memoir' is a line that led to a humbling and surreal experience for Assistant Professor of English Samuel Autman. He is working to complete a first draft of a book, Sanctified: A Memoir, about his experiences sorting out spiritually and sexuality. In the meantime, a chapter was adapted to a screenplay and filmed outside of Philadelphia with Hollywood actors.
It was during a recent conversation over breakfast with filmmaker and director Chinonye Chukwu '07 when she asked her former professor to share a powerful story from his memoir. Autman shared a memory that continues to haunt him. As a 10-year-old, he witnessed his friend ridiculed by his father for playing with lipstick. The father – in a rage – put the boy in high heels and a dress and dragged him around a crowded block lined with children pointing and laughing.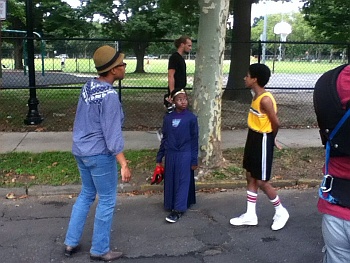 The memory is four pages of prose in the memoir, which Chukwu (at left) adapted to 10 pages of script. The film, A Long Walk, is directed by Chukwu and stars award-winning actor, playwright and director Colman Domingo who can be seen in Lee Daniels' The Butler; Tony Award nominee and singer Da'Vine Joy Randolph; and actor Francois Battiste.
As Chukwu worked on the screenplay, she kept in close contact with Autman. "We talked every few days, and she let me see what she was doing," he says. "It was difficult to not want to keep it 100 percent what I had written, but film is a different medium, so she had to fictionalize certain parts of it.
"I decided to let it go because the potential of what a short film could do far outweighs my pride of one chapter," Autman says. "I had a gut feeling that Chinonye was going to handle it right. It's remained in the spirit of the story, but inevitably when things go from prose to film, changes are made. I've taught adaptation enough to know that, and once Chinonye began to talk about Colman Domingo (at right with Chukwu and Autman) and all the celebrities interested in the film, what could I say?"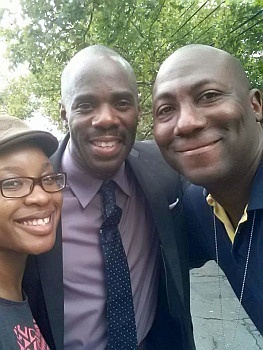 Autman explains, "I really undervalued the story's impact. I didn't even think it was worthy of putting in my memoir because it's not directly about religion or sexuality, and it happened to someone else. It's hard to know with your own material what's going to resonate with others."
Autman continues to question what action he could have taken on that particular day. "I was out playing football with other kids when it happened. I look back and think should I have intervened? How could I have intervened at 10 years old? But I still somehow feel that I could have. There is a part of me that will always wonder if I betrayed him, and I think that's what the film is about. That thought of me possibly betraying him, Chinonye drives a Mack truck into. My character comes back as an adult and confronts the memories."
"I understand now why some people don't want their work adapted to film. Because you do it, you give it to somebody else and it's theirs. It's even true in prose. I write a story with my intentions. Other people will attach things to it that I did not intend. One of my friends presumed that I was the young boy. I said if it were me, I'd own it. I'm in nonfiction. People will add their own interpretations, opinions and beliefs, and I Just have to let go of that what they say and do with it."
The hope is that A Long Walk is accepted to film festivals, including Sundance. "I used to go to Sundance when I lived in Utah," Autman explains. "I never thought there would be a possibility of going back and seeing my work adapted to screen. It feels surreal. From my perspective as a writer and a teacher, it raises the platform and profile of the work. I look at it purely from a marketplace value. Every film festival it plays, it will say a screenplay adaptation based on work by Samuel Autman. I couldn't pay for that kind of publicity."
Autman joined the actors and crew on the set. Few know the feeling of seeing a Hollywood actor play them, and Autman admits it was very strange. "When I asked the actors what made them interested in the film, they all answered, the script.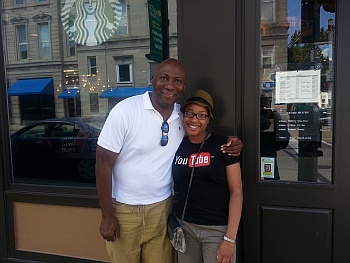 "People embraced me, thanked me and shook my hand. It was humbling. I'm usually alone in a room, writing and getting hundreds of rejection letters. So to have my work validated was incredible. They're not critics. They're not on committees. These are readers who saw the power of a story. That was the thing that touched me the most, and it made me realize that the stories I have could reach a wider audience. (Autman and Chukwu at right)
"This experience has shown me that more things are possible than you realize," Autman says. "I would have never expected this to happen. If I had said, 'I'm going to do an adaptation of this story and send it to agents,' it wouldn't have happened, but Chinonye was the perfect person to do this."
Back