American Institute for Contemporary German Studies Publishes Senior's Article
July 15, 2013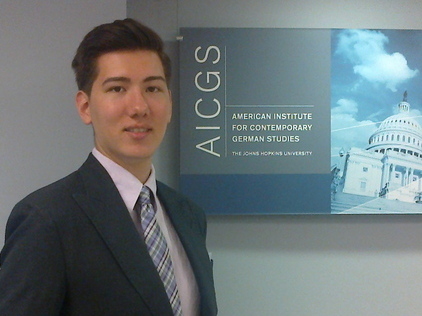 Patrick T. Schmitz, a rising senior at DePauw University, is co-author of an essay published on the website of the American Institute for Contemporary German Studies (AICGS). Schmitz is spending the summer as a research intern with the Institute. Affiliated with Johns Hopkins University, AICGS aims to strengthen the American-German relationship in an evolving Europe and changing world.
Schmitz, a double major in English (literature) and political science and a minor in European studies, is an Honor Scholar at DePauw. He co-authored the article, "Cyber Security and Privacy," with Parke Nicholson. His Honor Scholar thesis at DePauw will cover the same topic.
It begins, "The ongoing debate about cyber security and its implications for privacy has once again exposed major cultural and legal differences between the United States and Germany. The interplay between German society's demand for privacy and the state's implementation of legal structures ensuring its protection has developed throughout a long period of challenges and adjustments marked by the tragic experiences of the Third Reich, East Germany's systematic use of domestic informants to spy on citizens, and the threat of international terrorism. Germany's strict approach to data privacy reflects these many historical, social, and legal factors. In the United States, however, there is a broader consensus on the importance of providing the U.S. government the tools to preserve national security (e.g., Patriot Act, FISA). While preserving individual liberties and freedoms are at the core of each democracy, the United States and Germany differ when it comes to handling the balance between liberty and national security in the cyber age."
An alumni donor helped fund Schmitz's internship.

Access the full piece at AICGS' website.
The Institute produces objective and original analyses of developments and trends in Germany, Europe, and the United States; creates new transatlantic networks among changing generations; and intensifies dialogue among the business, political, and academic communities to manage differences and define and promote common interests.
Back