Mark Your Calendar for DePauwpalooza, September 20
September 13, 2013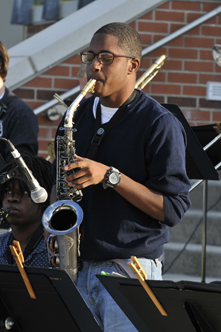 The DePauw University School of Music is busily preparing for the return of DePauwpalooza, the annual coming-together of the School with the College of Liberal Arts at DePauw University. Begun in 2011, DePauwpalooza is an outdoor concert in a picnic setting with free pizza for the entire DePauw community. All students, faculty and staff are invited.
The 2013 event, which starts at 5:30 p.m. on Friday, September 20, will again take place on the lawn of Bowman Park, in front of the Green Center for the Performing Arts. This year the School is teaming up with DePauw Student Government and Greek Week Steering Committee as co-producers. The University orchestra, chorus, band, chamber singers and jazz ensemble will all perform.
"This is a great opportunity for the School of Music to come out of its house and to play on the lawn for the College of Liberal Arts," says Mark McCoy, dean of the School of Music. "Art and music should not be confined to concert halls and formal stages, and we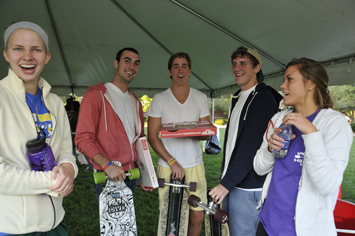 are only too happy to get outdoors for this event."
"The DePauw University Chorus and Chamber Singers will preview choral numbers from the Adam Guettel concert later that night, along with What a Wonderful World and a couple of lighter pieces that we'll be singing on our October 6th concert," adds Gregory Ristow, director of choral activities at the School of Music. "DePauwpalooza is always great fun. We love singing our traditional concerts in the fine acoustics of Thompson and Kresge, of course, but it's a joy to have this chance to sing outdoors for the whole campus as they enjoy a picnic."
McCoy concurs, "This is a great opportunity for some free food, good music and frisbee or football, all while supporting DePauw."
The School of Music program will be preceded by the Greek Week Step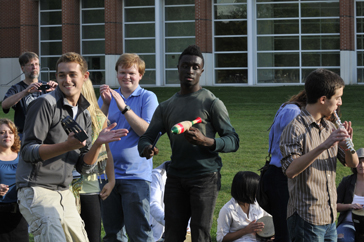 Competition, which will take place at 5 p.m. on the stage in Bowman Park and WGRE will broadcast live from the park throughout the evening.
In the event of rain, a modified program and free pizza will be offered in the Great Hall of the Green Center.
Following DePauwpalooza, festivities continue inside with an 8 p.m. concert in Thompson Recital Hall by Tony Award-winning guest artist Adam Guettel, who will present a cabaret-style review of his work on Broadway. Tickets to the Guettel concert are free.
Back