Students & Prof. Jeff McCall '76 Featured in TV Analysis of Harding-Kerrigan Coverage
February 1, 1994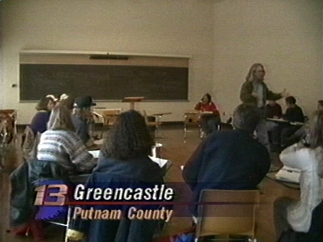 February 1, 1994, Greencastle, Ind. - "The Tonya Harding-Nancy Kerrigan rivalry has created a media sensation," reports WTHR-TV, but the station wonders if the relentless coverage of the figure skaters gas gone too far. The station's Mark Spain came to DePauw University to talk with students and Jeffrey M. McCall, professor of communication, about the media's handling of the story.
"When we kind of do the 'Tonya Harding in process' story, when there's no new development, what else is not getting covered on this day when we're doing the kind of obligatory Tonya Harding update?," Dr. McCall, a 1976 graduate of DePauw, asks.
The piece by the Indianapolis NBC affiliate also includes interviews with several DePauw students, and is embedded below.
Source: WTHR (NBC)/Indianapolis
Back