32 Former Football Captains to Return for Dedication of Nick Mourouzis Field, Oct. 12
September 25, 2013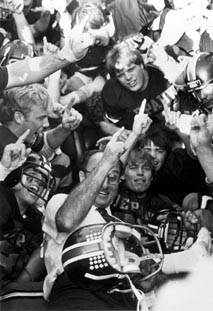 A total of 32 graduates of DePauw University who captained football teams led by Nick Mourouzis will return to campus to honor the legendary coach on Old Gold, October 12. The group -- which includes three CEOs, 5 attorneys, 2 physicians, and a vice president of Microsoft Corp. -- will be at Blackstock Stadium to witness the dedication of DePauw's new synthetic turf as Nick Mourouzis Field. (at right: Mourouzis and players celebrate a Monon Bell victory in his first season at DePauw; November 14, 1981)
Kickoff is set for 1 p.m. for the homecoming game against Oberlin College. "Coach Nick" will be on hand for a tribute at halftime as the field is formally dedicated in his name and will be joined by former players whose lives he influenced.
The game will be preceded by an Old Gold Tailgate at 11 p.m. in the Blackstock
parking lot. Attendees are also invited to a special Old Gold Ubben Lecture at 10 a.m. by Bret Baier, Fox News anchor and 1992 graduate of DePauw (click here for details).
AstroTurf GameDay Grass™ 3D Xtreme synthetic turf was installed at Blackstock Stadium over the summer. An anonymous gift has made Nick Mourouzis Field possible.
Learn more about the dedication in this previous summary. An article on the athletic facilities upgrades under way across campus can be found here.
dCNWcdm3Yl8
Back