Monday Concert Features Collaboration of Faculty Soloists
September 28, 2013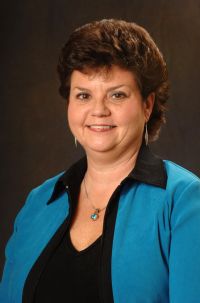 Pianist Amanda Hopson, tenor Kerry Jennings and mezzo soprano Caroline Smith (pictured), all members of the DePauw University School of Music faculty, join forces for an evening of American music this Monday, September 30. Their performance, the next in the Faculty Select Series, will take place at 7:30 p.m. in Thompson Recital Hall at the Green Center for the Performing Arts, located on the DePauw University campus.
According to Professor Smith, the evening started out simply, as a program of music by American composers. As the recital took shape, however, it developed into metaphors on night themes, love lost and the emotions that accompany those experiences.
"Maury Yeston, who wrote both the lyrics and the music for December Songs, was one of the first composers to actually develop a cycle that encompasses both classical and crossover elements," says Smith. "He paved the way for other composers whose music will be presented on the program -- Tom Cipullo, Lori Laitman and Ben Moore."
"December Songs takes its origin from the inspiration of Schubert's Die Winterreise," Smith added, "but places it in a contemporary setting in Central Park instead of Austria.
It is written in English, rather than German, and with the central voice being that of a woman instead of a man. For anyone who has experienced a lost love, this cycle will really touch them."
Jennings will sing two song groups, by Laitman and by Cipullo, which he recently recorded on a CD in collaboration with Amanda Hopson. "Amanda and I were drawn to them because the composers' writing evokes such strong emotional responses," notes Jennings, "due to the ability to set English texts in an intelligible way, while also providing beautiful and singable melodies." The new CD, In My Memory: American Songs and Song Cycles, features the debut recording of Laitman's song On A Photograph..., which will be performed on Monday's concert.
The program also includes Samuel Barber's Nocturne (Homage to John Field) for solo piano, to be performed by Professor Hopson. In this work, Barber skillfully utilizes Schoenberg's notorious twelve-tone compositional technique to pay respects to the lesser known, but highly influential Irish composer John Field. Field is credited with creating the piano nocturne, a musical form that was later made more relevant by Polish composer Frédéric Chopin.
General admission tickets to Faculty Select Series concerts are $5. All students, children, and seniors over 65 are free. To purchase tickets, visit www.depauw.edu/music/tickets; drop by the Green Center box office, Sunday-through-Friday between noon to 4 p.m.; or call (765) 658-4827.
Back