Saxophonist Randy Salman and Vocalist Annelise Delcambre Join Jazz Ensemble for Tuesday Concert
October 2, 2013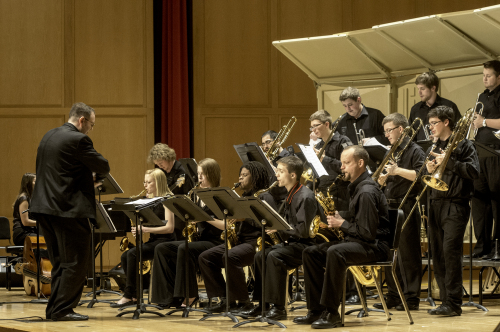 The DePauw University Jazz Ensemble will bring a variety of musical styles to the Kresge Auditorium stage during its opening performance of the 2013-14 academic year. You're invited to attend the concert at 7:30 p.m. on Tuesday, October 8, in the Green Center for the Performing Arts.
From Duke Ellington and Count Basie through Jaco Pastorius, Buddy Rich and Maria Schneider, the ensemble will cover nearly one hundred years of great jazz in a single concert featuring faculty soloist Randy Salman and vocalist Annelise Delcambre, a senior at DePauw University School of Music.
"I am thrilled to be performing with the DePauw Jazz Ensemble," says Salman. "I am featured on several compositions, including a wonderful ballad written by Alec Wilder and arranged by saxophonist Walt Weiskopf."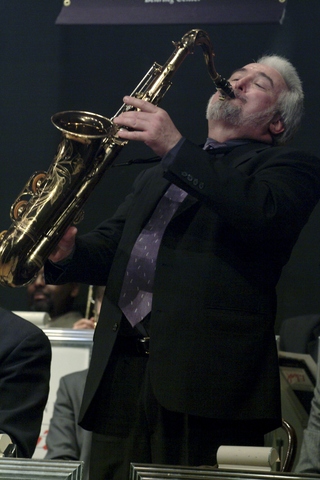 The program also includes jazz standards such as Groovin' Hard by Don Menza, a piece frequently performed by both Buddy Rich's Big Band and the NBC Orchestra, and "a tour de force" that audiences may not have heard before by the remarkable jazz saxophonist Michael Brecker.
Other works on the set list include George Gershwin's Strike Up the Band, the great Sammy Nestico chart A Warm Breeze, and Duke Ellington's thoughts on leaving a famous Mexican City, Oclupaca (spell it backward). The concert closes with the famous funk chart The Chicken.
General admission tickets to hear the DePauw Jazz Ensemble are $3. Tickets for all students, children and seniors are free thanks to season sponsors Judson and Joyce Green. To purchase tickets, visit www.depauw.edu/mus ic/tickets or stop by or call the Green Center box office, (765) 658-4827.
Back