$15 Million Gift from Judson and Joyce Green ('74 & '75) to Launch 21st Century Musician Initiative
October 11, 2013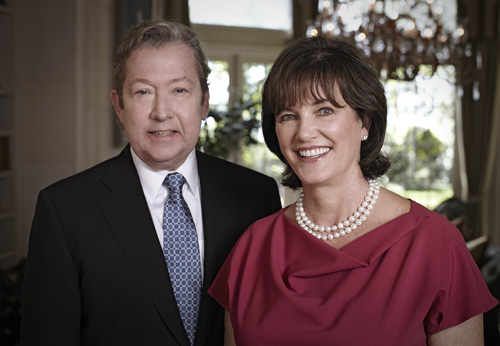 A $15 million gift from Judson and Joyce Green will launch an initiative to transform the DePauw University School of Music -- Indiana's oldest and one of the nation's first -- to meet the needs of students who are entering a rapidly changing music industry. The gift from the Greens, both of whom are graduates of DePauw, will establish the 21st Century Musician Initiative (21CM). The first of its kind, 21CM is a complete re-imagining of the professional music school curriculum and student experience with the aim to create flexible, entrepreneurial professionals prepared for the challenges of today's music world.
In announcing the gift, President Brian W. Casey underlined the special relationship the Greens and DePauw have shared over many years.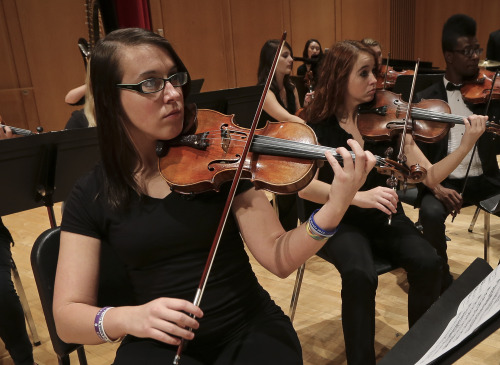 "On behalf of our students, I extend my sincere thanks to Judson and Joyce Green," said Casey. "They have built a legacy on the DePauw campus that is matched by few. Their love of the arts -- and especially music -- has enriched the cultural fabric of the University and promises to position the School of Music at the forefront of music education."
The Greens made an initial $15 million gift to the School of Music in 2007 which established the Judson and Joyce Green Center for the Performing Arts, the home of the School of Music.
"The world of music is changing rapidly, but presents so many new opportunities for musicians and music students. The goal of 21CM is to create talented and entrepreneurial musicians who can thrive in this new musical paradigm," said Joyce Green. "Much like our association with Yo-Yo Ma and the Chicago Symphony, we view this gift as an opportunity to expand and sustain the role of music in civic and cultural life."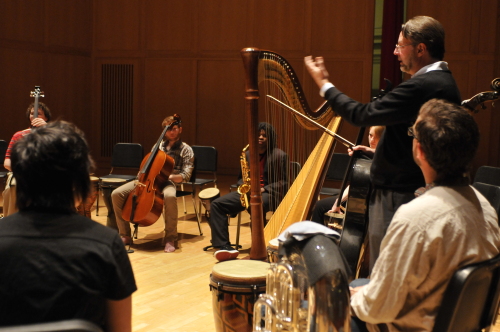 "We are extremely pleased to be part of this new focus and exciting future for the School of Music at DePauw," added Judson Green. "Providing experiences that foster creativity and innovation among DePauw students in ways that bring music -- in its many forms -- to new audiences and new communities is one that energizes us."
Along with rigorous musical training, the 21CM initiative places increased emphasis on community engagement, audience development and business skills for musicians, as well as expanded efforts in advocacy and entrepreneurship. The School of Music introduced a successful pilot phase for the program from 2011-13 where aspects of the larger 21CM concept were prototyped. These included a guest artist series to bring the world's leading musicians to DePauw, residencies for world-class chamber ensembles, and national and international touring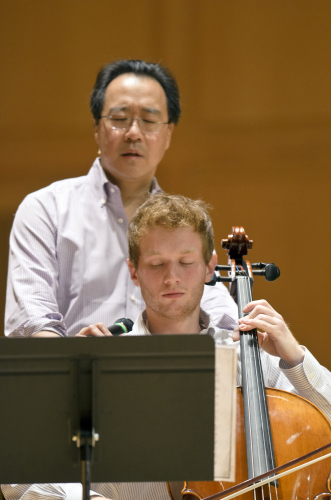 opportunities for the University's ensembles. Results of this pilot phase included a 200% increase in School of Music audiences from 2011 to 2013.
Cellist Yo-Yo Ma participated in a unique two-day visit complete with discussions, performances with the DePauw University orchestra and "pop-up" performances across campus. (at left: Ma conducting a master class with a DePauw student musician)
"I am thrilled that Judson and Joyce are supporting the future of music in this way," said Yo-Yo Ma. "Having spent time at DePauw, I understand the Greens' love for the University and I think this initiative will have a profound impact on how we educate future generations of musicians."
With the support of the Green's gift, the School of Music plans to roll out the next phase of 21CM complete with a new curriculum, dedicated administrative staff and other innovative initiatives including new styles of concertizing and additional opportunities with living composers. Components of the successful pilot phase will continue including the now renamed Green Guest Artists Concerts featuring the Fifth House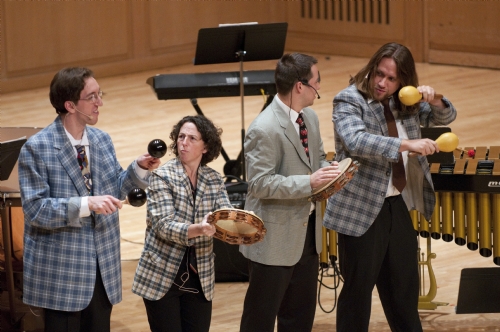 Ensemble, Chanticleer and the renowned vocal sensation Bobby McFerrin, among others this year.
"The 'classical' music world is changing," noted Mark McCoy, dean of the School of Music. "The days of the single-career musician are waning.Today's musician must be flexible and open to new possibilities. With the generosity of Judson and Joyce, we have an opportunity to systemically create musicians for a new century. Music students must always strive for artistic excellence as musicians, but they must also know how to engage today's audiences in new and innovative ways in order to demonstrate the power and value of music in a life well-lived."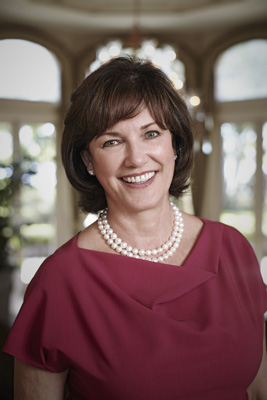 Joyce Taglauer Green '75, past chair of the Washington C. DePauw Society, received her B.A. in music performance at DePauw. She currently serves on the Board of Trustees of the Chicago Symphony Orchestra. Her work as a piano and music teacher has given her valuable insight into the importance of music education. Through her role with the Chicago Symphony Orchestra, she and her husband Judson sponsor Yo-Yo Ma as the Symphony's Judson and Joyce Green Creative Consultant.

Judson Green '74, a past chair and current member of the University's Board of Trustees, received his B.A. in economics with a minor in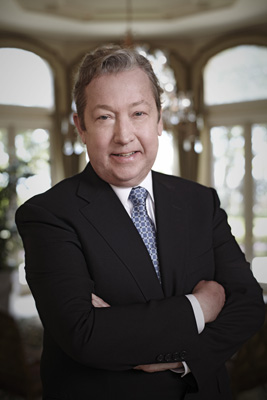 music composition and was a Rector Scholar at DePauw. He enjoyed a remarkable and successful career, including top executive positions for The Walt Disney Company both nationally and internationally, eventually serving as the company's chief financial officer and then president of the Theme Parks and Resorts Segment. Judson then went on to become president and CEO of NAVTEQ Corporation. Throughout his successful business career and to the current day, Judson remains an accomplished jazz pianist with several albums to his credit.
The Greens' gift is also detailed on the front page of this morning's Indianapolis Star.
Founded in 1884, the DePauw University School of Music is the nation's sixth-oldest private institution for post-secondary music instruction and the longest-running in Indiana. Learn more here.
Back