ESPN Founder Bill Rasmussen '54 to Speak at Calvin College
November 25, 2013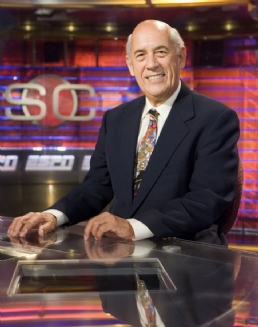 Bill Rasmussen, founder of ESPN and 1954 graduate of DePauw University, will be among the speakers to visit Calvin College in Michigan during its 27th annual January Series. "Channeling Sports: A Conversation with ESPN Founder Bill Rasmussen" will take place on Thursday, January 23.
"Rasmussen's entrepreneurial daring, his irrepressible enthusiasm and a dash of good luck gave the world the first 24-hour television network," notes the college's announcement. "Funding for his vision started with a $9,000 credit card advance. As the network began to grow, Rasmussen sought out investors, advertisers, content providers, satellite technology and cable systems. He grew the staff to 9 in the first 9 months; then he expanded the dedicated team to a total of 80 at launch. On September 7, 1979, ESPN went on the air, just 14 months after his moment of inspiration."
Read more at the website of the Grand Rapids Press.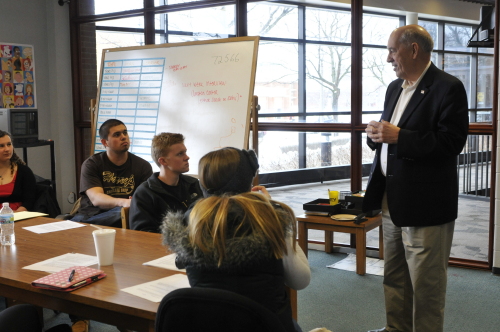 On October 4, 2012, Bill Rasmussen delivered a 175th Anniversary Distinguished Alumni Lecture in DePauw's Kresge Auditorium. During a two week stint as "executive-in-residence," Rasmussen -- who was a Rector Scholar and economics major as an undergraduate -- also visited classes, met with students, was interviewed on TV's Inside Indiana Business and was inducted into the DePauw Media Wall of Fame.
Back