Entrepreneur Jenny Vance '00 to be Awarded McDermond Medal at November 7 Lecture
October 21, 2013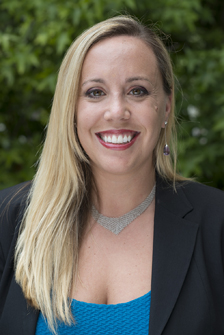 Jenny Vance, president and co-founder of Indianapolis-based LeadJen and 2000 graduate of DePauw University, will return to campus on November 7 to present the Robert C. McDermond Lecture. The speech, presented by the Management Fellows Program and the McDermond Center for Management and Entrepreneurship, will begin at 11:30 a.m. in the ballroom of DePauw's Memorial Student Union building. All from the campus and community are invited to attend the free event, but it is requested that guests RSVP to swsmith@depauw.edu as lunch will be served.
Vance, who was an economics major and Management Fellow at DePauw, will be awarded the Robert C. McDermond Medal for Excellence in Entrepreneurship during the program.
LeadJen is a business-to-business (B2B) lead generation company that uses data and insight to drive prospect interactions that convert to sales. Vance founded the company
in 2004. LeadJen has grown to nearly 100 employees, branched out into other markets, and received numerous awards at both the state and national level, including the 2013 Mira Award for IT/Tech Service Excellence & Innovation. (at left: Vance speaks with Management Fellows at DePauw in 2011)
Vance is president-elect of the state chapter of Entrepreneurs' Organization (EO) and is active in the National Association of Women Business Owners. She also founded the Indianapolis chapter of AA-ISP, the American Association of Inside Sales Professionals. Vance has twice been honored by the Sales Lead Management Association as one of the "50 Most Influential People in Sales Lead Management" and was named to the "20 Women to Watch" list in 2011 and 2012. She was included on lists of "40 Under 40" by the Indianapolis Business Journal and Direct Marketing News.
"Jenny was a dynamic and creative student, and she has been a real change agent and innovator since leaving DePauw," says Gary D. Lemon is James W. Emison Director of DePauw's McDermond Center, professor of economics and management, and director of the Management Fellows Program. "She is a proud alumna of the Management Fellows Program and an inspiration to our current students. We look forward to hearing from her and celebrating her success."
The Robert C. McDermond Medal is named for the 1931 graduate of DePauw who endowed the University's Center for Management and Entrepreneurship and the Management Fellows Program. It is awarded to individuals who have played a key role in the formation or growth of an entrepreneurial business venture and/or assisted others in establishing entrepreneurial businesses and who have displayed creativity and innovation in entrepreneurial leadership.
Back