Summer Internship Fair Puts Spotlight on New Grant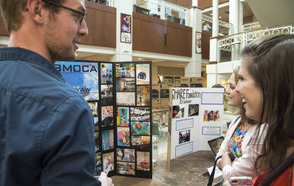 October 16, 2013
As visitors filtered in and out of the Percy Lavon Julian Science & Mathematics Center auditorium, a group of DePauw students took turns sharing what they did last summer. The opener, junior Demar O. Ayee, showed slides of some of his community outreach work in Queens, N.Y., teaching exercises to children at a health-focused block party. Next up, junior Kristen B. Dickman, who interned in marketing and public relations at the Indianapolis Zoo, explained the complexities of baby animal birth announcements, followed by senior Stefani T. Cleaver, whose summer work at the Rehabilitation Institute of Chicago included crafting her own orthotic shoe inserts. Each new story was as interesting as it was different, but they all had one thing in common: they probably wouldn't have happened without the Summer Internship Grant Program.
Managed by DePauw's Kathryn F. Hubbard Center for Student Engagement, the Summer Internship Grant Program provided financial support to 35 students who interned throughout the United States and as far away as China. The public presentations, held during the 2013 Summer Internship Fair, were a final requirement for grant recipients – a way to share their internships with other students, faculty and staff members, and the generous donors who helped make their opportunities possible.
"We created this event to provide a forum for the summer interns," Hubbard Center Internship Coordinator Christine L. Munn says. "It gave the students a chance to celebrate their summer experiences and to exchange perspectives on each other's work."
Outside the auditorium, other grant recipients set up posters and slide shows in the Julian Center atrium. Senior Tyler C. Davies, a studio art and English writing double major from Greencastle, displayed photos of the projects he worked on with children at a summer camp run by the Boulder (Colo.) Museum of Contemporary Art. Standing next to Davies' collection of murals and collages – and a primary school interpretation of Andy Warhol's Campbell's Soup Cans – senior Ashley M. Bauer shared a very different experience.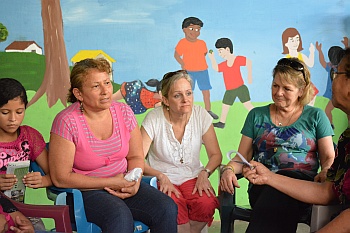 As a media intern and delegation coordinator for the SHARE Foundation in El Salvador, Bauer's job was to lead visiting church and school groups on tours to see how their contributions to the organization were being used. (Left: Members of an American church group meet with community members in La Chacra.) It was her third trip to the country since coming to DePauw – and her shortest.
Not long after she began her work in the community of La Chacra, which Bauer describes as "one of the most gang-ridden communities in El Salvador," the country's longstanding gang truce began to fall apart in a wave of violence. Knowing that being a foreigner was enough to put a bull's-eye on her back, Bauer decided to return to the United States. "Being that it was my third time there, it was a very tough decision for me because I had invested a lot in my work and I did not want to have to give that up," says Bauer, a senior communication major from Naperville, Ill.
The trip might have ended, but her internship continued. After she returned to campus, Bauer put her knowledge and experience to use by creating a guide for students and faculty members who will travel on future Winter Term in Service trips to El Salvador. "There is information in this document about almost every aspect of El Salvador – life, culture, war, gangs, medical care," she says.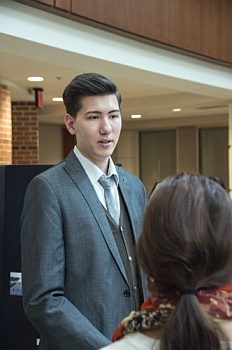 Another grant recipient's work was being publicized before the summer had even ended. Senior Patrick T. Schmitz (right), an Honor Scholar who worked as a research intern at the American Institute for Contemporary German Studies, co-authored an article on cyber security and privacy for the organization's website. [See: American Institute for Contemporary German Studies Publishes Senior's Article]
With recent college graduates facing an increasingly competitive job market, Munn says there's evidence that an internship can make the difference between a job offer and a thank-you-for-applying letter. According to the National Association of College Employers, more than 65 percent of internships end with an offer for employment. Additionally, 83 percent of employers said an internship or community-based project in a real-world setting is an effective way to ensure college graduates have the skills and knowledge necessary to succeed in entry-level positions.
But as vital as internships can be to a student's education and career exploration process, they aren't always financially possible.
"Many internship opportunities are unpaid, especially if the host is a nonprofit, small business or start-up organization without funds available to offer interns a stipend or hourly wage," Munn says. "This, of course, creates disadvantages for students without financial means to pay for their living expenses. The Summer Internship Grant Program enables students to gain relevant 'real life' experiences by providing financial support to cover the cost of accommodations and transportation while the student is working at an internship."
In addition to internships arranged by students, Munn says the University has established partnerships with Putnam County nonprofits and government agencies, and a special selection of internships led by alumni and friends of the University is available to students through the Tiger Tracks database.
Applications for next year's Summer Internship Grant Program open in December. More information can be found on the Hubbard Center website or by contacting Munn at christineklinger@depauw.edu.
Back