Martin Luther King III Coming for Ubben Lecture on November 21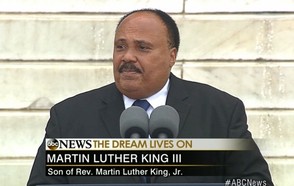 October 28, 2013
On November 22, 1963, shots rang out as a presidential motorcade passed through Dealey Plaza in Dallas, killing President John F. Kennedy. Three months earlier, Martin Luther King Jr. presented his famous "I have a dream" speech in Washington, D.C., a defining moment in the civil rights movement. On Thursday, November 21 -- the day before America pauses to mark the 50th anniversary of the assassination of President Kennedy -- Dr. King's oldest son, Martin Luther King III, will come to DePauw University to present a Timothy and Sharon Ubben Lecture, "Reflections on the 50th Anniversary of Two Pivotal Events: My Father's 'Dream' and JFK in Dallas." The program will begin at 7:30 p.m. in Meharry Hall, located within historic East College. Like all Ubben Lectures, the event is presented free of admission charge.
A human rights advocate, community activist and a political leader, Martin Luther King III has been actively involved in policy initiatives to maintain the fair and equitable treatment of all citizens, at home and abroad. Utilizing the principles of Kingian nonviolence, King quietly exercised negotiation and persuasion to reach a compromise between Georgia legislators and leaders to change the state flag that was an offensive and divisive symbol for many Georgians.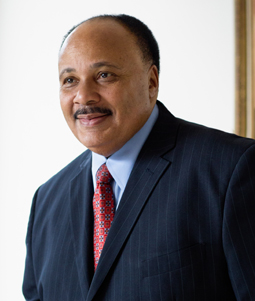 His commitment to worldwide humanitarian concerns was exemplified in the late 1970s when he was asked to represent President Jimmy Carter in two official delegations to promote peace in foreign countries. Later, in 1984, as a member of the board of directors of the Martin Luther King Jr. Center for Nonviolent Social Change, Mr. King ventured to five poverty and drought-stricken African nations on a fact-finding tour. The outcome of the tour was the creation of the Africa Initiative, a program developed to end starvation in Africa. The former president of the Southern Christian Leadership Conference, King founded the nonprofit organization Realizing the Dream, Inc., which eventually merged with The King Center in 2010. Through a mix of nonviolence conferences and youth development programming in the U.S. and around the world, Martin Luther King III has spread his father's message to a new generation.
Mr. King previously spoke at DePauw in February 2002. His father addressed an audience in Gobin Memorial United Methodist Church on the DePauw campus on September 5, 1960 (a photo from that event is below right).
In a national address in June of 1963 -- a century after President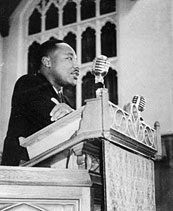 Abraham Lincoln had signed the Emancipation Proclamation -- Kennedy became the first president to call on all Americans to denounce racism as morally wrong. "We are confronted primarily with a moral issue," he stated. "Are we to say to the world -- and much more importantly to each other -- that this is the land of the free, except for the Negroes?" Kennedy's proposals led to the Civil Rights Act of 1964.
Dr. King's speech from the steps of the Lincoln Memorial took place on August 28, 1963, during the March on Washington. As more than 250,000 civil rights supporters listened, King declared, "Five score years ago, a great American, in whose symbolic shadow we stand, signed the Emancipation Proclamation. This momentous decree came as a great beacon light of hope to millions of Negro slaves who had been seared in the flames of withering injustice. It came as a joyous daybreak to end the long night of captivity. But one hundred years later, we must face the tragic fact that the Negro is still not free. One hundred years later, the life of the Negro is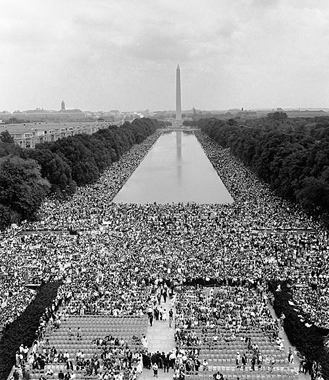 still sadly crippled by the manacles of segregation and the chains of discrimination. One hundred years later, the Negro lives on a lonely island of poverty in the midst of a vast ocean of material prosperity. One hundred years later, the Negro is still languishing in the corners of American society and finds himself an exile in his own land. So we have come here today to dramatize an appalling condition."
In a 1999 poll, scholars of public address ranked the speech the best American address of the 20th century.
The Civil Rights Act was stalled in Congress at the time of President Kennedy's assassination three months later, but the legislation was passed the following year and was signed into law by President Lyndon Johnson.
Some experts believe that day in November 1963 started a shift in American attitudes. In November of 1963, a poll on the American public's trust in its government stood at over 75%. That figure has steadily declined since, and now stands at 19%. (photo: Dr. King and other civil rights leaders meet with President Kennedy in the oval office of the White House after the March on Washington)
"Up until that point, there was this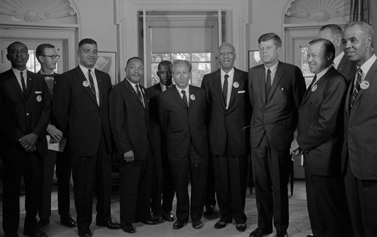 widespread belief in big business, big government, big thinking to lead us into a better future," Thomas Hine, cultural historian and author of Populuxe, recently told the Oakland Press. "The assassination didn't completely undo this, but it showed that some things are far more fragile than we ever imagined them to be."
New York Times columnist David Brooks has said, "And that fundamental shift in the country, distrust of government, changes politics in all sorts of ways. To me ... it explains why the health care law remains unpopular, because people don't trust government to do something complicated for them. And this is a cynical country about government right now, and this plays into that and underlines that and will reinforce that."
In 1968, assassins would claim the lives of Dr. King and Robert F. Kennedy.
Martin Luther King III told Rolling Stone, "I have to live up to a certain obligation,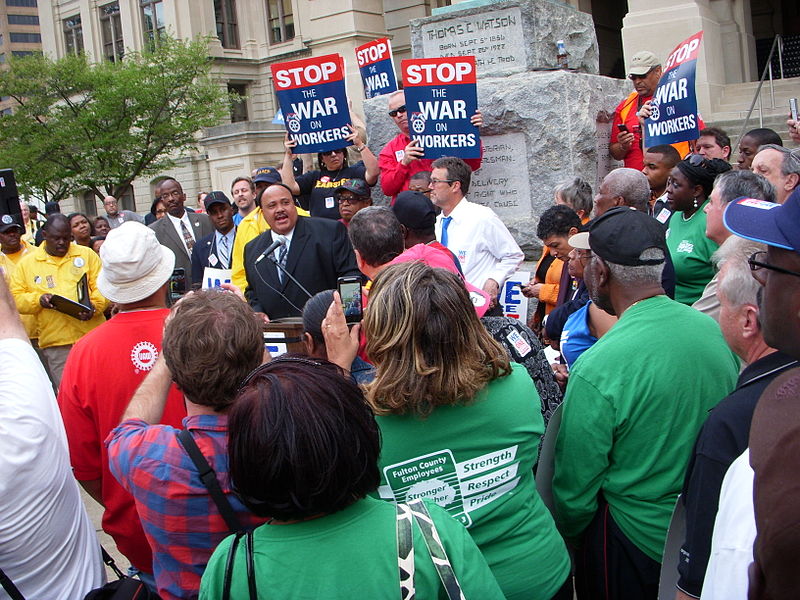 that I have a certain role in society. I see myself as hopefully being able to enhance the dream that Martin Luther King Jr. had. Although we say dreams never come true, the dream that he talked about can be a realistic dream. It obviously is not gonna happen today, this week, next week, next month or even five years from now. It may not even happen in my lifetime. It may be a hundred years. But it is a dream that can happen."
A graduate of his father's alma mater, Morehouse College, Martin Luther King III spoke at the 50th anniversary of the March on Washington two months ago. "This is not the time for nostalgic commemoration," he told the crowd. "Nor is this the time for self-congratulatory celebration. The task is not done. The journey is not complete. We can and we must do more."
Established in 1986 through the generous support of 1958 DePauw graduates Timothy H. and Sharon Williams Ubben, the Ubben Lecture Series was designed to "bring the world to Greencastle." Two Ubben Lectures have already been presented during the current academic year: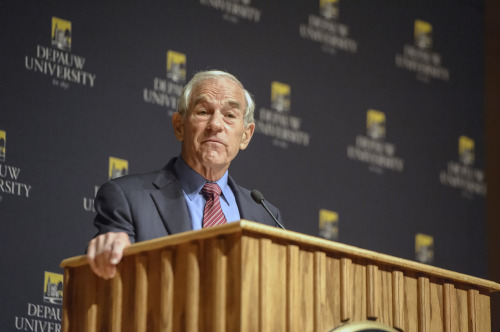 Fox News Channel anchor and 1992 DePauw graduate Bret Baier visited on October 12, while former congressman and three-time presidential candidate Ron Paul delivered a September 10 speech.
Previous Ubben Lecturers have included Bill Clinton, Margaret Thatcher, Benazir Bhutto, Mikhail Gorbachev, Tony Blair, Peyton Manning, Jane Goodall, Ross Perot, Shimon Peres, Elie Wiesel, Oscar Arias, General Colin Powell, Willy Brandt, John Major, Mike Krzyzewski, Ambassador L. Paul Bremer, Mitch Albom, F.W. de Klerk, General Wesley Clark, Barbara Bush, Spike Lee, Naomi Wolf, George Will, Andrew Young, Lee Hamilton '52, ice cream entrepreneurs Ben Cohen & Jerry Greenfield, Mary Frances Berry, Ken Burns, Bob Woodward, Willy Brandt, Gwen Ifill, Paul Volcker, Karl Rove, Howard Dean, Doris Kearns Goodwin, Rebecca Skloot, Ralph Nader, Ferid Murad '58, Harry Belafonte, Leymah Gbowee, Charles Fishman, David McCullough, Carl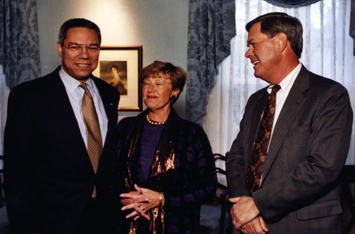 Bernstein, Todd Rundgren, Jane Pauley, Carl Rowan, Alan Simpson, Julian Bond, Jimmy Wales, Tom Wicker, Jason Reitman, Candy Crowley, Paul Tsongas, William J. Bennett, Sister Helen Prejean, Allen Neuharth, Liz Murray and many others. (photo: Gen. Colin Powell with Sharon and Tim Ubben; November 2, 1994)
To view a complete roster of Ubben Lecturers -- which includes links to video clips and news stories -- click here. Video montages of many events are available on YouTube.
A video history of the Ubben Lecture Series was created in 2008, and can be accessed here.
Back