Noted Urban Thinker Richard Register Here Nov. 5 & 6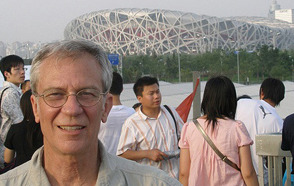 October 28, 2013
Richard Register, founder and president of Ecocity Builders and a noted theorist and author in ecological city design and planning, will visit the campus of DePauw University next week. On Tuesday, November 5, he will present a public lecture, "Cities as Art in Quest of a Happy, Healthy, Holy Future." The program will begin at 4:15 p.m. in the auditorium of the Richard E. Peeler and is free of admission charge.
The following day, November 6, Register will facilitate of an open session of the Eco City Workshop (a course being taught by Professor Glen Kuecker) from 12:30-3:30 p.m. in the ballroom of the Memorial Student Union Building.
Presented as part of DePauw's 2013 ArtsFest, Register's visit is made possible by DePauw's Environmental Fellows Program, the Burkhart Lecture Fund, and the campus Sustainability Program.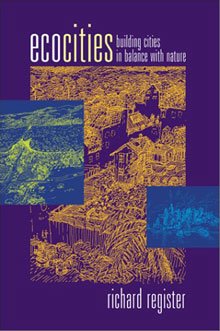 Register has four decades of experience activating local projects, pushing establishment buttons and working with environmentalists and developers to get a better city built and running. Among his many "firsts," he convened the first of the Ecocity International Conference Series in Berkeley, California. He was founding president of Urban Ecology (1975) and founder and current president of Ecocity Builders (1992), both nonprofit educational organizations. Register was appointed to the International Scientific Advisory Committee on Active Ecological Urban Development to the Scientific Committee on Problems in the Environment (SCOPE), an international association of several nation states and two dozen major scientific associations.
He is the author of Ecocities: Building Cities in Balance with Nature; Ecocity Berkeley: Building Cities for a Healthy Future; and Another Beginning.
Back